The Bills only have several weeks to decide whether they'll pick up Sammy Watkins fifth-year option, and Sal Capaccio of WGR550.com reports that the organization is still debating whether they'll make the move. According to the writer, the team is especially wary of the fact that the option is guaranteed against injury.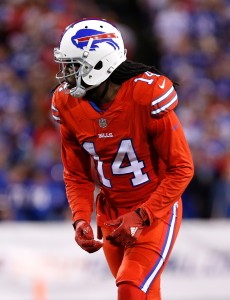 The option would cost the Bills around $13MM against the cap for the 2018 season, although Capaccio notes that the team could pick up the option and subsequently negotiate a lower value via a long-term contract. Watkins has participated in rehab with the team over the past couple of weeks after undergoing foot surgery, and both the front office and head coach Sean McDermott are set to meet with the medical staff to get an update on the wideout's progress.
Picking up the option seems likely, and the Bills would still have some flexibility. The option wouldn't be guaranteed (except for injury) until the 2018 offseason, so if Watkins struggles next season, they team isn't obligated to pay him that money. If the team decides to not pick up the fifth-year option, they could still retain the receiver via the franchise tag. Capaccio estimates that the franchise tag for wideouts will be around $16.5MM next offseason.
Watkins struggled through a foot injury in 2016, and the wideout ended up missing half the season. He finished the campaign with only 28 receptions for 430 yards and two touchdowns. The former first-rounder also missed three games during the 2015 season, but he still managed to haul in 60 receptions for 1,047 yards and nine scores.
Photo courtesy of USA Today Sports Images.