The Steelers are putting negotiations with star running back Le'Veon Bell on hold while the team continues to navigate free agency and prepare for the draft, per Jeremy Fowler of ESPN.com. GM Kevin Colbert indicated that his club will resume talks with Bell's reps "eventually," and he hopes Bell will report to training camp.
Colbert added, "We're not intentionally ignoring [Bell's contract]. More urgent business needs to get taken care of. We will reassess where that is. He'll reassess where his interests are as well. I anticipate us continuing that process once we get through the free agency period and maybe even through the draft. The draft can change things on both sides."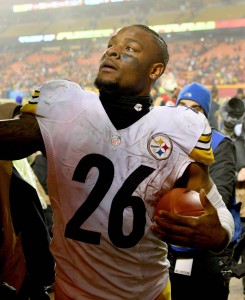 We heard several weeks ago that Pittsburgh was getting closer to meeting Bell's asking price, but obviously the team has not gotten there yet. Bell, of course, was hit with the franchise tag for the second consecutive season earlier this month, and while he will receive a healthy $14.544MM if he plays out the 2018 campaign under the tag, he is still looking for long-term security at a rate that the Steelers do not seem to be willing to pay.
Nonetheless, both Fowler and Mark Kaboly of TheAthletic.com (Twitter link) believe it is unlikely that the Steelers rescind Bell's franchise tag. If they did, it could leave Bell in a tough position, as many teams have already spent their free agent budget, and even those that have not done so would probably be just as unwilling as the Steelers to satisfy Bell's contract demands. Therefore, Bell may have to simply sign the franchise tender at some point prior to the start of the season. He has indicated previously that he will not attend training camp if he does not get a multi-year deal to his liking, even though his early-season performance in 2017 was not up to his usual standards, perhaps because he also skipped last year's training camp.
Colbert's comments that the team cannot divert its attention from free agency right now may raise some eyebrows given the Steelers' small amount of cap room, but Kaboly tweets that Pittsburgh may not be done in free agency if a player it likes unexpectedly becomes available.
The Steelers also have several other in-house matters to resolve. Colbert said that the team could still extend Ben Roethlisberger's contract this offseason, which was mentioned as a possibility last month (Twitter link via Fowler). Big Ben's current deal keeps him under club control through 2019.
Also, Kaboly tweets that no decision has been made with respect to Bud Dupree's fifth-year option, which must be exercised by May 3, but Fowler tweets that Colbert seems open to exercising it.
Photo courtesy of USA Today Sports Images.