The Browns were officially without a top decision-maker for less than 12 hours, firing Sashi Brown and hiring John Dorsey on Thursday. That process, though, unfolded for the past several weeks.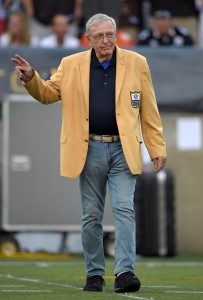 And Brown himself might have been part of it. The Browns enlisted the help of Hall of Famers Bill Parcells and Ron Wolf to help land a football executive, Michael Lombardi of The Ringer reports (on Twitter). The former Browns GM added Brown was involved in this process. Lombardi, however, points out Brown thought he would join the new football-based exec instead of being replaced.
Jimmy Haslam appeared to be toying with that notion as well. The owner initially wanted to bring in a football voice to complement Brown rather than replace him, but after research, he decided Brown couldn't be part of the new equation. Interestingly, Brown lieutenants Paul DePodesta and Andrew Berry will. And each won't have to report to Dorsey, in a unique arrangement.
Rumors about the Browns searching for execs with stronger football backgrounds came out of Cleveland back in mid-October, and although the Browns denied it, that point in time seems to add up with the five- to six-week search process multiple outlets have reported encompassed this shakeup effort.
Wolf's involvement is interesting given that he'd played this role before. The former Packers GM has done this at multiple junctures in the past. He served in a consultant role and recommended the hire of Mike Holmgren as team president and also met with Haslam late in 2015, doing so prior to Haslam's decision to bring in the new-age front office.
Wolf's son, Packers exec Eliot Wolf, was mentioned as a possible candidate, but it's clear the Browns were not especially interested in going through traditional channels via offseason interview process to fill this vacancy.
Photo courtesy of USA Today Sports Images.