Cowboys wide receiver Dez Bryant said he would not accept a reduction in pay going forward, the pass catcher told reporters including ESPN's Todd Archer on Wednesday.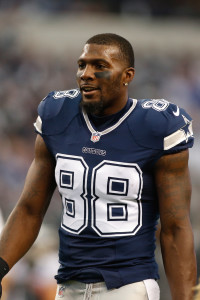 "I haven't heard no talk about that but if it comes, I don't know, probably not," Bryant said. "Hell naw, man. I believe in me."
Archer notes the three-time Pro Bowl receiver is set to make $12.5 MM while counting $16.5 MM toward the team's salary cap in 2018. If the Cowboys release him, the team can free up $8.5 million or $12 million if he is cut after June 1.
Between 2012-14, Bryant was among the game's best wideouts, posting at least 85 catches, 1,200 yards and 12 touchdowns in each season. This season has been one to forget, however, with No. 88 amassing just 66 grabs for 815 yards and six touchdowns through Week 16. While the team focuses more on the run now than it did in years past, Bryant has still been inconsistent with frustrating drops and an inability to get open. The receiver placed most of the blame on the scheme rather than his chemistry with second-year quarterback Dak Prescott, David Moore of the Dallas Morning News reports (Twitter link).
Bryant said he plans on sitting down with owner Jerry Jones and head coach Jason Garrett to discuss his fit in the team's scheme. This will be a situation to keep tabs on in the offseason.
Photo courtesy of USA Today Sports Images.