The Giants' decision to bench Eli Manning has created plenty of drama in the football world over the last week, and the way head coach Ben McAdoo handled the benching might have cost him his job. It is now difficult to envision Manning returning to Big Blue next season — although team owner John Mara did not foreclose that possibility — but there are any number of quarterback-needy clubs who would love to have Manning under center for a couple of years.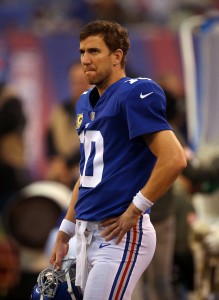 Manning himself has said that he is not planning to retire, so there has already been a great deal of speculation as to which teams could be in play for his services this offseason. But Manning's father, Archie Manning, has suggested that his son could indeed hang up the cleats.
Per Ian Rapoport of NFL.com, Archie said that Eli was heartbroken over the benching, which was perhaps exacerbated by the way McAdoo handled it (Manning was apparently made to feel like a scapegoat when New York brass simply wanted to evaluate the rest of its roster in a lost season). Archie said, "Eli's passion for the Giants goes deeper than most and I've mentioned it through the years. Eli loves playing for the New York Giants. He just does. He just loves it, I think more than most. So therefore, it broke his heart."
Archie went on to say that Eli could simply call it a career and stay home with his wife and three daughters. After all, he has two Super Bowl trophies — to go along with two Super Bowl MVP awards — a young family, and more money than he could ever hope to spend. He has nothing left to prove, and Mike Garafolo of the NFL Network tweets that all options, including retirement, are on the table.
But it would still be hard to imagine Manning not playing in 2018. The Jaguars have been mentioned as a logical landing spot for him, which Jason La Canfora of CBS Sports reiterated today (per La Canfora, who also indicated that Manning has absolutely no intention of retiring, several GMs say Manning-to-Jacksonville makes too much sense to not happen). The Broncos also make some sense, though Mark Kiszla of the Denver Post suggests a second Manning-Denver marriage is unlikely.
In any event, Manning will not suit up for the Giants again (at least in 2017) barring injury to one of the team's other QBs. Per Michael David Smith of Pro Football Talk (citing ESPN's Sal Paolantonio), McAdoo has vowed that he will not bench Geno Smith today, and Jordan Raanan of ESPN.com says the team legitimately like Smith and wants to take a real look at him.
Photo courtesy of USA Today Sports Images.