On Wednesday, the Bills announced the signing of third-round defensive tackle Harrison Phillips. With Phillips in the fold, the Bills have just one draft pick left to sign.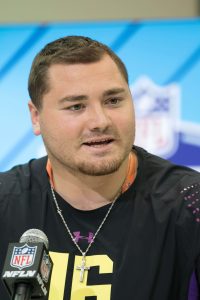 Phillips should see time right off the bat as a top substitute for Star Lotulelei at nose tackle. The Bills believe that he'll be able to hit the ground running, thanks in part to his work ethic.
"I expect to work my tail off and do everything they ask me to do as best I can," he said. "I'm just going to work through everything. I know that that whole defensive front has a whole wealth of knowledge and if I could just try and pick all their brains, I hope I can just come in and contribute."
As shown in PFR's draft signing tracker, first-round quarterback Josh Allen stands as the Bills' only unsigned pick:
Photo courtesy of USA Today Sports Images.