Cameron Wake has spent the majority of his professional career with the Dolphins, and the impending free agent told Joe Schad of the Palm Beach Post that he's hoping to stick around Miami. However, Wake also cautioned that he wouldn't be afraid to sign elsewhere.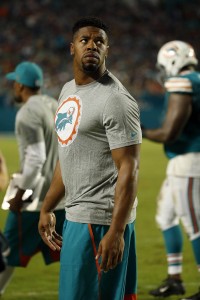 "Another jersey?" Wake said. "Ideally, no. But I mean, again, if option number one is not in my favor and they don't want me but I can still play and I can still provide and still enjoy it whatever needs to happen. If it makes sense then I'll do it. If it doesn't then I won't."
We heard earlier this month that the Dolphins wanted to extend their veteran defensive end last offseason, but nothing ever materialized. That sentiment probably hasn't changed, as Wake has plenty productive in 2018. While Miami initially intended to limit the 36-year-old's snaps, Wake has still been plenty productive, compiling 30 tackles, 4.5 sacks, and one forced fumble in 12 games. Pro Football Focus also ranks Wake 15th among 106 eligible edge defenders.
After going undrafted out of Penn State in 2005, Wake briefly caught on with the Giants before landing in the Canadian Football League. He earned a roster spot with the Dolphins in 2009, and he's proceeded to play the past 10 seasons in Miami. Wake has earned five Pro Bowl selections, one First-Team All-Pro nod, and three Second-Team All-Pro selections during his career, and his 96.5 sacks rank second in franchise history (behind Jason Taylor).
Wake also acknowledged that he's considered retirement, but his production in 2018 makes him think he could still be productive in 2019.
"You think about it all the time," Wake said. "That's the unfortunate part of the game. Whether it be physical or mental, it's tough. It's a tough gig. But at the end of the day, today, I still feel good, and I still feel like I can help. Will that be the case in April? I'd like to think so."
Photo courtesy of USA Today Sports Images.