Although the Dolphins have not signed a single player to a standard 2021 contract this month, the club has still lost about $8MM in cap space, as Barry Jackson and Adam Beasley of the Miami Herald report. That's because a few players hit incentives in their contracts that increased their 2021 cap charges.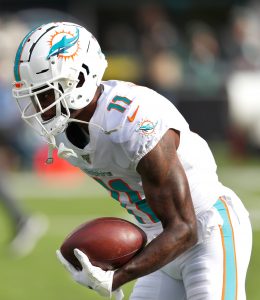 For instance, WR DeVante Parker's 2021 cap number increased from $11MM to $12MM, while safety Eric Rowe's number grew from $5.05MM to $6.05MM. As such, Miami now has $25.4MM of cap space, assuming the cap floor of $180MM does not increase.
That's not an insignificant amount of wiggle room, but the Dolphins do have a number of high-value draft picks, including the Nos. 3 and 18 overall selections and two second-round choices. If they keep all of those picks, Miami would need to allocate about $11.9MM for its draft class, per Jackson and Beasley. That doesn't leave a ton of space for the team to conduct the rest of its offseason business.
After all, the 'Fins will need to sign a wide receiver, a backup QB, and several linebackers, and they will also need to re-sign C Ted Karras or acquire a new center (though Jackson and Beasley say the club is high on Wisconsin-Whitewater OL Quinn Meinerz, Miami is not going to deploy a D-III rookie as its starting pivot).
The Dolphins do have plenty of options to create additional room, including cutting safety Bobby McCain or restructuring the contract of linebacker Kyle Van Noy. And the situation would be completely altered if the club were to trade for Texans QB Deshaun Watson, which appears to be a legitimate possibility.