The Jaguars announced that they will start quarterback Chad Henne over Blake Bortles in their exhibition game against Carolina on Thursday. Both signal-callers will receive first-team reps, but the fact that Henne will get top billing in the Jaguars' most important preseason game seemingly bodes well for his chances of starting the team's regular-season opener in Houston on Sept. 10.
[RELATED: Jaguars Offseason In Review]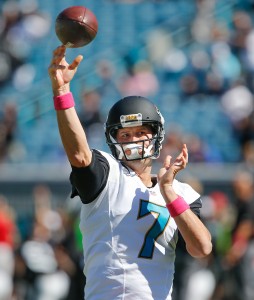 Bortles, whom the Jaguars chose third overall in the 2014 draft, had a mediocre-at-best first three seasons in the NFL and has been ineffective this summer. Both his on-field woes and his contract status combine to cloud his future in Jacksonville. If he doesn't win the starting over Henne, the Jaguars could cut Bortles, though doing so would leave them with $6.57MM in dead cap and no savings. But keeping him would be risky, as Bortles has a $19MM fifth-year option for 2018 that's guaranteed for injury. Should Bortles stay on the Jags' roster this season and suffer an injury that leaves him unable to pass a physical next March, they'd be on the hook for that sizable sum a year from now.
Henne, like Bortles, hasn't exactly established himself as a quality starter during his time in the league. A second-round pick of the Dolphins in 2008, the 32-year-old has totaled 65 appearances (53 starts) and posted poor numbers (59.3 completion percentage, 58 touchdowns against 63 interceptions, 75.5 passer rating). The ex-Michigan standout hasn't started a regular-season game since 2014.
Unless the light bulb goes on for Henne or Bortles during the season, a fairly talented Jacksonville team will struggle to break its nine-year playoff drought or significantly improve over its three-win 2016. Still, although their situation under center looks bleak, the Jaguars have not considered adding an outsider to the mix. The best options available in free agency include Colin Kaepernick and Robert Griffin III, while the Browns' Brock Osweiler is on the block. Griffin and Osweiler come with obvious on-field warts, though, while teams have been averse to signing Kaepernick because of his his off-field activism and his recent decline in performance.
Photo courtesy of USA Today Sports Images.