With the No. 1 overall pick in the 2020 NFL Draft, the Cincinnati Bengals (will probably) select LSU quarterback Joe Burrow. Not long after that, the draft's consensus top talent – Ohio State defensive end Chase Young – will be chosen.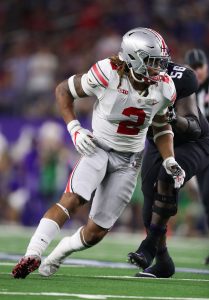 It's a familiar refrain in the NFL Draft, which never unfolds in the order of the "best player available." Even though Young likely won't be the top choice this year, he's arguably commanded more attention in the football world than any other prospect in his class, and for good reason.
Young isn't just the best edge rusher in 2020 – some say he's the best pass-rushing prospect in years. Pro Football Focus, which has been grading at the college level since 2014, bestowed historic grades to Josh Allen (Kentucky, 2018), Nick Bosa (Ohio State, 2017), Myles Garrett (Texas A&M, 2015), and other elite prospects – Young topped them all in 2019.
Still, you don't need advanced metrics to see why Young is such a special talent. Evaluators have been drooling over his potential for years, dating back to his days at high school powerhouse DeMatha Catholic. His presence was felt immediately at Ohio State in 2017 and he followed that up with a ten-sack season as a sophomore in 2018. Last year, Young went ballistic: 17 sacks (the most in the FBS), 21 tackles for a loss, and seven forced fumbles…in a season that was cut short by two games, thanks to a suspension over a loan from the draconian NCAA.
Listed at 6'5″ and 265 pounds, Young seems to check every box. He's powerful against the run and unfathomably smooth as a pass rusher. At Ohio State, Young was the focus of every opposing offensive line, including some of the nation's most elite units. Frequently, Young was double-teamed, and that didn't usually work, save for his December matchup against Michigan in which it felt like they double-teamed him on every snap. Even then, the extra attention on Young meant more opportunities for the rest of the front seven, and Ohio State rolled to a 56-27 blowout.
Even evaluators that have put Young under a microscope haven't been able to find many flaws. Young may have to get more consistent with his pad level and work on his vision, some say. Those critiques are the football equivalent of seeing a supermodel walk down the street and remarking that her nail polish color is tacky. As far as pass-rushing prospects go, Young is as good as they get.
Despite their glaring need at quarterback and unbridled love for Burrow, the Bengals will consider the local phenom for the top pick. At this stage, we're expecting the Bengals to take Burrow no matter what, but that won't affect Young much. The Redskins, at No. 2, probably represent Young's absolute floor.
Photo courtesy of USA Today Sports Images.