It's a done deal. No. 2 overall pick Chase Young has formally signed his rookie deal with Washington, as NFL.com's Ian Rapoport tweets.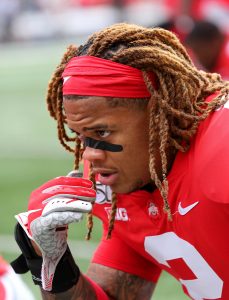 Young was widely viewed as the top talent in this year's class. Ron Rivera & Co. tried their best, but they couldn't hide their affinity for the Ohio State sack machine. In fact, most teams didn't even bother to reach out to Young – there was little chance that he'd be available after No. 2.
Young dominated in the Big Ten, racking up 16.5 sacks and 21 tackles for loss in only 12 games last year. Meanwhile, the advanced metrics at Pro Football Focus show that Young's performance was positively off the charts. His 2019 score slotted him ahead of Josh Allen (Kentucky, 2018), Nick Bosa (Ohio State, 2017), Myles Garrett (Texas A&M, 2015), and every other collegiate edge rusher dating back to 2014.
It's all even more impressive when you consider that Young was the focus of every opposing offensive line, including some of the nation's most elite units. He was frequently double-teamed, and it rarely worked. He was slowed a bit by the extra attention against Michigan in December, but that only served to open up wider lanes for the rest of the front seven. In the end, Ohio State rolled to a 56-27 blowout.
Young's four-year deal will pay him $34.56MM in total, including a $22.7MM signing bonus, paid up front.
Photo courtesy of USA Today Sports Images.