JULY 25: Two days after agreeing to rework the final year of his contract, Raiders offensive guard Denzelle Good has seemingly retired. No announcement has been officially made by Good, but the team tweeted today that he was being moved to the reserve/retired list.
Good agreed to take a lower salary in the deal reached this weekend, but the $425,000 available in potential incentives certainly didn't point to an upcoming retirement. Perhaps in the next few days more information will accompany the move to help make sense of the order of actions here.
The departure of Good adds another question to an offensive line that is already chock-full of them. Recent reports had listed Good as one of two offensive linemen, alongside Kolton Miller, who were solidly expected to start, with the remaining three spots up in the air. Andre James is a good bet to continue starting at center after a successful season at the position last year. John Simpson is currently the favorite at left guard, but reports indicate that rookie third-round pick Dylan Parham could push both James and Simpson for a starting job at their positions.
The right side was expected to be Good at guard with Brandon Parker and Alex Leatherwood battling for the right tackle position. Lester Cotton was the first player listed beneath Good on the depth chart, but a likelier scenario sees Leatherwood concede the tackle spot to Parker and man the guard position. Leatherwood filled in when Good missed every game but one last season after tearing his ACL. Parker replaced Leatherwood as the starting tackle in that scenario, and it seems an easy fix to just put the two back to where they were at last year.
Regardless, of the possibilities, this news is a bit of a gut-check for an offensive line that already had questions to answer for the 2022 NFL season. It will certainly be an interesting position group to keep an eye on this summer at training camp.
JULY 23: Guard Denzelle Good is coming off a year that saw him miss every remaining game after tearing his ACL in Week 1 of the 2021 NFL season. Now, as he was scheduled to head into the last year of his contract, Good has agreed to a reworked contract for this season with the Raiders, according to Field Yates of ESPN.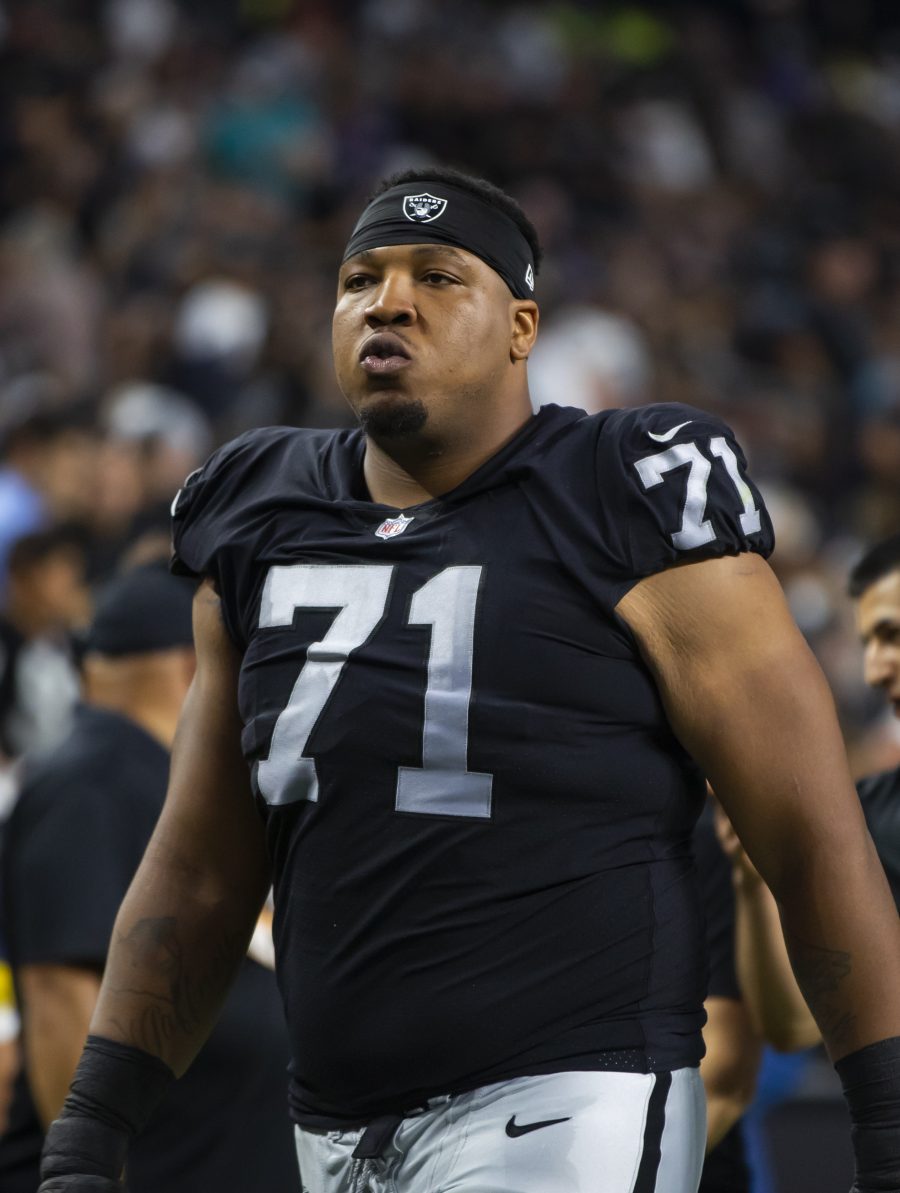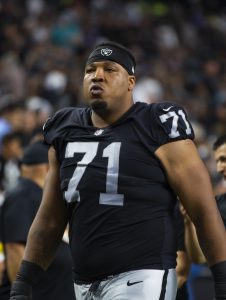 In the second and final year of the two-year deal he signed before last season, Good was scheduled to have a base salary of $3.09MM. In the new one-year contract meant to replace that final year, Las Vegas is set to pay Good a base salary of almost $1.04MM with a possible $425,000 available in incentives. The reduced salary is likely a reflection of his injury and could be an influence on future discussions once this contract year is over.
Before missing almost all of last year, Good had solidified his role as one of the team's starting guards, starting 14 of the 15 games he appeared in during the 2020 season. Before that Good had been an intermittent starter since the Colts selected him in the seventh round in 2015. Despite recovering from his injury, Good is one of two players on the Raiders' offensive line that is assumed to have a starting role locked down.
Good has been medically cleared and will be a participant when Las Vegas starts training camp on Thursday. He'll look to have a bounce back year and show he's fully recovered as he heads towards free agency.