Chicago landed quite the haul in waiver claims last week. Perhaps the most intriguing of the six claims they made is former-Raiders offensive lineman Alex Leatherwood. After being selected 17th-overall in last year's draft, the Alabama product failed to survive this year's 53-man roster cuts, much to the benefit of the Bears' offensive line group.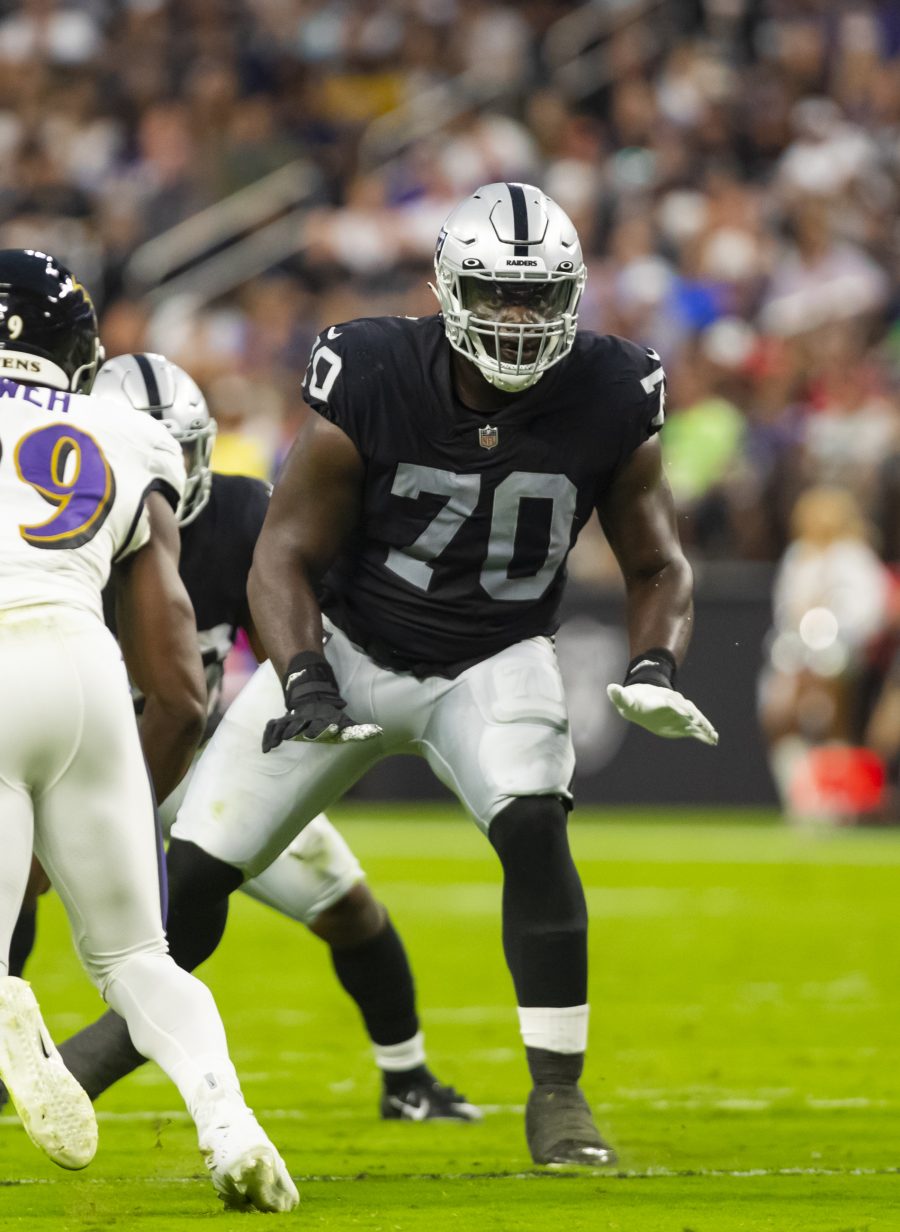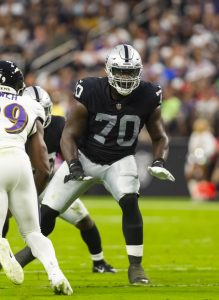 The move could also benefit the 23-year-old, as well, as some in league circles see Chicago as a better scheme-fit for Leatherwood, according to Doug Kyed of Pro Football Focus. The improved fit doesn't exactly mean that we can expect Leatherwood to become an immediate starter in Chicago, though.
The guard spots are currently manned by Cody Whitehair and Teven Jenkins. Rookie fifth-round pick Braxton Jones has exploded onto the scene and seized the starting job at left tackle, pushing Riley Reiff to right tackle and Larry Borom to the bench as a backup. So where exactly does Leatherwood fit into the picture?
To start his career with the Bears, Leatherwood has been practicing at right tackle, according to Adam Jahns of The Athletic. General manager Ryan Poles asserted that they expect to work Leatherwood at guard, too, though.
"We all believe in player development here, and we've put pieces in place to allow players to be their best selves," Poles told reporters. "So we're going to approach that in many different ways, and we're going to give (Leatherwood) an opportunity to develop and grow. Forget the draft pick thing. That's over. So let's start from the ground floor. Let's build you up and take your time and whatever that is, we want to put him in the best position to succeed."
The good news for Leatherwood is that his versatility allows him more positions in which to find success. In college, Leatherwood began as the primary backup to starting left tackle Jonah Williams. Unable to keep him off the field, Nick Saban and company decided to start him at right guard as a sophomore. He moved back to left tackle for his junior and senior seasons winning the Outland Trophy as a senior. The Raiders attempted to start Leatherwood at tackle as a rookie but, after some persistent struggles, the team moved him inside to guard, where he started the remainder of the season.
It will likely be an adjustment for Leatherwood to be forced into a backup role, but the change may be just what he needs to develop and learn to play at the NFL level. And Chicago may be the perfect place for him to do so. The Bears are in a bit of a rebuilding stage and do not expect to be in contention enough to require immediate success out of Leatherwood. Additionally, we've seen very recent success stories of offensive line development from the Bears with young players like Jones and Jenkins making impressive progress in their short time with the team.
So this is where we're at with Leatherwood: the second-year lineman has been given a second chance in a scheme better fit for him and on a roster that doesn't pressure him for immediate success. Putting it all in this perspective makes it easy to see how the addition can be a win-win scenario for Leatherwood and the Bears.