Another week, another report on Andrew Luck from Jason La Canfora of CBS Sports. Luck, of course, suffered a setback in his recovery this week, so instead of practicing, the Colts' franchise quarterback will cease all football activities for the time being.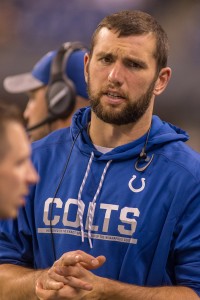 That leads to the obvious question of whether the 2-4 Colts should just shut Luck down and call it a day. But they are just one game back in the AFC South standings, and La Canfora says Indianapolis is committed to seeing Luck play at some point this season if his health allows (and, presumably, if the team still has a chance at a playoff berth, though La Canfora suggests the Colts want to play Luck even if they are out of contention).
La Canfora adds that the setback is not considered particularly serious. It is not uncommon for a quarterback recovering from shoulder surgery to plateau as Luck did, it just means that his potential return will be pushed back. When he does return to the practice field, he will need to go through several weeks of throwing on a limited basis before being able to throw on consecutive days and being integrated back into the offense.
All of that means that Luck will most likely not suit up until November 26 at the earliest, with a December return more likely. Until then, Jacoby Brissett will continue to start under center.
Photo courtesy of USA Today Sports Images.