Four years ago today, the Colts made Andrew Luck the highest-paid player in NFL history. The deal was supposed to tie Luck to Indy through the 2021 season, but it didn't pan out that way.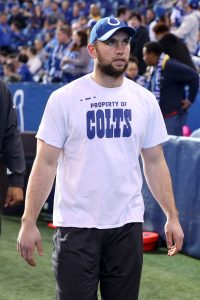 [RELATED: Colts Sign Michael Pittman Jr.]
Luck agreed to a five-year extension worth $122MM, with $87MM in overall guarantees and $47MM fully guaranteed at signing. Without the deal, Luck would have been eligible for free agency following the '16 season. From there, the Colts could have retained Luck for an additional two seasons via the franchise tag at estimated values of $25MM and $35MM, but it would have put them in a difficult position down the road. Instead, both sides used Luck's expected franchise tags amounts as a framework for talks and hammered out a deal.
With the contract, Luck leapfrogged Joe Flacco, Aaron Rodgers, Russell Wilson, Ben Roethlisberger, Eli Manning, and Philip Rivers in average annual value. The deal made sense, but it did not come without risk. Luck was coming off of an injury-riddled, seven-game season in which he completed just 55.3% of his passes and logged 15 touchdowns against 12 interceptions.
Luck's shoulder was largely a non-issue in 2016 as he threw for 4,240 yards and 31 touchdowns with a career-high 63.5 completion percentage. After the season, he went under the knife to fix his shoulder, and that's where things started to get messy. First, Luck was held out of training camp and 2017 preseason. Then, he was ruled out for week after week in the regular season. Finally, in November, the Colts were forced to place Luck on season-ending IR.
Luck had to claw his way back into things – when he was finally able to throw a regulation-sized football, it was a noteworthy event. In 2018, things seemed to be trending up. The former No. 1 overall pick led the Colts to a 9-1 record to close the season, allowing them to squeak into the playoffs. The Colts even downed the Texans in the first round, before falling to the Chiefs. With a seemingly healthy Luck and lots of young talent, the Colts were moving in the right direction.
Then, just before the start of the 2019 season, Luck shocked the world. At the age of 29, Luck retired from football, largely due to the mental grind of the sport. With that, Luck's five-year extension turned into a two-year add-on. The Colts, meanwhile, turned to Jacoby Brissett as their new starter, with little time to get him comfortable in his new role.
The Colts did not seek repayment on the deal – they could have recovered $12.8MM of the $32MM signing bonus he was entitled to under his current contract, plus two $6MM roster bonuses, totaling ~$25MM.
Luck is done with football, but speculation about his potential return persists. Earlier this year, before the Colts landed Philip Rivers, GM Chris Ballard did his best to quell the talk:
"Andrew's retired," Ballard said. "Do I talk to Andrew? Yes, I do. Haven't talked to him in a few weeks, I'm sure he's been busy being a father. But Andrew's retired, and I think we all need to accept that. That's where he's at. He's retired."
Photo courtesy of USA Today Sports Images.