The Colts still do not have the services of their franchise quarterback, and with Week 1 less than a month away, they are unsure if Andrew Luck will be leading that effort.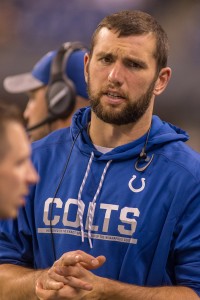 Jim Irsay said he can't commit to Luck suiting up with the Colts for their opener, Stephen Holder of the Indianapolis Star tweets. Irsay added he considered signing a veteran quarterback but called the price attached to this player "too high," via Mike Chappell of IndySportsCentral.com (on Twitter). Chappell adds this unnamed veteran was a player in his mid-30s and not Colin Kaepernick.
Irsay (via Gregg Doyel of the Indianapolis Star, on Twitter) said Luck "could miss one game, could miss two, hypothetically."
The owner's comments follow a pattern of caution regarding Luck. The sixth-year quarterback, who is still recovering from January shoulder surgery, said himself he couldn't commit to that date when asked at the start of training camp. But now that camp's more than two weeks in, this hesitancy becomes a greater concern for Indianapolis' early-season prospects.
Chris Ballard said in late July the Colts did engage in discussions with a potential veteran backup, seeming to confirm Irsay's Sunday comments. As it stands, Scott Tolzien is Luck's backup.
Ballard added Sunday while interviewed during Indianapolis' preseason opener (via Holder, on Twitter) Luck's strength levels are probably better now than they were at any point last season. Luck played through a partially torn labrum last year. Holder adds (via Twitter) Luck is throwing currently, but the Colts are holding him back. The cornerstone passer will ramp up his activity when doctors advise it, Holder tweets.
The Colts open their season at the Rams before closing out September with home tilts against the Cardinals and Browns.
Photo courtesy of USA Today Sports Images.