The Steelers and Antonio Brown have agreed to an extension, the club announced today. The new deal, which will tie Brown to Pittsburgh through the 2021 season, will make the dynamic wide receiver the highest-paid pass-catcher of all-time.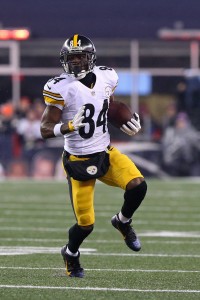 [RELATED: Follow Pro Football Rumors On Twitter]
The pact will reportedly give Brown four new years worth $68MM, and contains a $19MM signing bonus. Brown's 2017 base salary has been reduced to a guaranteed $910K, which along with the signing bonus, makes up the only guaranteed portions of the contract.
From there, Brown will earn base salaries of $7.875MM, $12.625MM, $11.3MM, and $12.5MM in 2018, 2019, 2020, and 2021, respectively. In 2018, Brown is due a $6MM roster bonus on the fifth day of the league year, and 2019, Brown is due a $2.5MM roster bonus on the fifth day of the league year.
Brown has been pushing for a new deal for more than a year now, but the Steelers held firm to their organizational policy of not addressing contracts until they are one year away from expiration. In this round of talks, the Steelers and agent with Drew Rosenhaus were aiming to have a deal done by March 9th. It seems that the deal has been agreed upon with more than a week before the start of free agency.
Currently, Julio Jones leads all wide receivers in terms of total contract value ($71.25MM overall), per-year average ($14.25MM per year), and total guaranteed cash ($35.5MM). After him, Demaryius Thomas and Dez Bryant are tied or roughly tied in those categories, with Thomas holding a slight edge in total guaranteed money. Apparently, Brown's new pact will set the new watermark for the wide receiver position.
Brown, 29 in July, is coming off of his third consecutive first-team All-Pro selection. Last year, Brown finished out with 106 catches for 1,284 yards and 12 touchdowns in 15 regular season games. As great as that stat line was, Brown has put up even gaudier numbers for Pittsburgh in the past. In 2014, Brown had 129 catches and 1,698 yards with 13 touchdowns. In 2015, he had an eye-popping 136 catches for 1,834 yards and ten touchdowns.
Before the multi-year agreement, Brown was slated to play out 2017 with a $13.6MM cap charge.
Adam Schefter of ESPN.com first reported the news of the extension and its basic details (Twitter links). Jeremy Fowler of ESPN.com (Twitter link) reported the signing bonus amount. Photo courtesy of USA Today Sports Images. Mike Florio of Pro Football Talk reported the financial specifics of the deal.