Offensive lineman Ben Garland won't return to the Falcons in 2019, according to D. Orlando Ledbetter of the Atlanta Journal-Constitution. Garland played in 14 games and made four starts at right guard for Atlanta last season.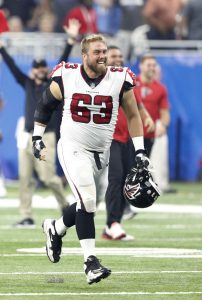 Garland first entered the league as a defensive lineman, but later transitioned to the O-Line. Last season, the Falcons retained him via the $2.9MM second-round tender for restricted free agents. This time around, they're looking to revamp the offense line, and Garland is not in their plans.
The Falcons reached an extension with offensive lineman Ty Sambrailo on Tuesday, keeping him under club control through the 2021 season. Meanwhile, there will be more O-Line moves on the way. Ryan Schraeder, who lost his tackle job to Sambrailo down the stretch, could be on the outs despite having three years and $18.8MM left on his deal.
Photo courtesy of USA Today Sports Images.