Oft-derided quarterback Brock Osweiler raised eyebrows Wednesday when he said he showed enough on film over the past two years to continue as a starter, but he might actually have a shot to earn the No. 1 job in Cleveland, per Ian Rapoport of NFL.com (video link).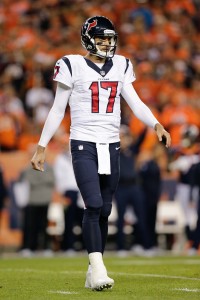 Since Cleveland acquired Osweiler and a second-round pick from the Texans in a stunning trade in March, the 26-year-old's existence on the Browns "has changed dramatically," reports Rapoport. Osweiler is a "far, far different quarterback" than he was with the Texans last season, says Rapoport, who expects the 6-foot-8, 235-pounder to compete for a starting role with the Browns.
When Cleveland landed Osweiler, the early belief was that they did so just to acquire second-rounder at the cost of his $16MM salary, and that he wouldn't be on the Browns come September. It remains possible Osweiler won't make the Browns, but it could help his cause that they didn't address the quarterback position via free agency or another trade, nor did they use one of their two first-round picks on a signal-caller. The Browns instead waited until the second round, selecting former Notre Dame QB DeShone Kizer at No. 52 overall. Like Osweiler, Kizer will compete to start, though he's certainly not a lock to take the reins immediately.
As Rapoport notes, Osweiler intrigued enough in Denver two years ago to have both the Broncos and Texans offer him sizable contracts in free agency the ensuing offseason. Osweiler was hardly spectacular with the Broncos in 2015, but if he resembles that version of himself more than his disastrous 2016 form in the coming months, he could beat out the inexperienced trio of Kizer, Cody Kessler and Kevin Hogan to emerge as the Browns' season-opening starter.
Photo courtesy of USA Today Sports Images.