Greg Hardy was scheduled to participate in last weekend's Spring League Showcase, but he did not take the field with the other NFL hopefuls in California. Instead, Hardy is choosing to focus on his MMA training, agent Drew Rosenhaus tells Mike Florio of PFT.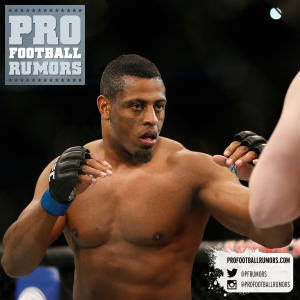 Hardy still hopes to get a chance in the NFL, Rosenhaus says, but both the player and his rep are being realistic about the odds. The agent is hoping that the former Panthers and Cowboys defensive end will get a call from an interested team in the next month, but there's no reason to think that there will suddenly be a groundswell of interest.
Hardy received zero bites from any teams last offseason after starting 12 games for the Cowboys in 2015. He's now even further removed from live action but he's just as toxic as he was before from a PR perspective. There's also the matter of his perceived attitude problem. Even when he was bestowed with a second chance with the Cowboys, Hardy was reportedly irritable and frequently late for practice.
As talented as he is, teams feel they have little incentive to kick the tires on Hardy. Barring a miracle, it sounds like Hardy will be devoting himself to cage fighting full time rather than pursuing a return to the gridiron.
Photo via Pro Football Rumors on Instagram.