The Chiefs have been very proactive in remaking their offensive line this offseason, and they might not be done adding big names. They've already cut both of their starting tackles, will possibly let their starting center walk, and have signed Joe Thuney and Kyle Long to play on the interior.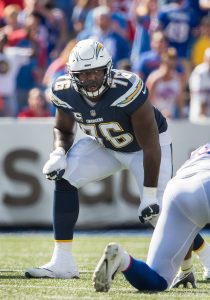 They've also re-signed Mike Remmers to presumably man the right side, but are still lacking a clear starter at left tackle. They apparently came very close to landing Trent Williams, but he ultimately opted to re-sign with the 49ers. As they sift through backup plans, the team has "checked in on" Russell Okung, Jeremy Fowler of ESPN.com writes (ESPN+ subscription required).
It's the first known interest we've heard of in Okung this offseason. He apparently mulled retirement last summer, but played 2020 with the Panthers. He was limited to only seven games, all of which he started at left tackle for Carolina, and only played in six in 2019 with the Chargers. He's appeared in 131 games since getting drafted by the Seahawks sixth overall back in 2010, and has started all of them.
A two-time Pro Bowler, Okung is capable of being a very solid starter when healthy and at 32 should have something left in the tank physically. Blood clots in his lungs were what limited him in 2019, and his recent injury history is a bit concerning.
If he managed to play a full (now 17-game) slate in 2021, he could be a nice addition for Kansas City. Fowler also speculates that the Chiefs could be in on a potential Orlando Brown trade to address the left tackle spot. If they don't make one of these moves, they'll likely look for a blindside protector for Patrick Mahomes in the draft.
Photo courtesy of USA Today Sports Images.