We recently heard that the Colts could look to add a QB this offseason, and Ian Rapoport of NFL.com is hearing the same. Although Indianapolis may not be involved in the free agent or trade market for signal-callers, Rapoport suggests the team could use an early pick on a QB in the 2020 draft.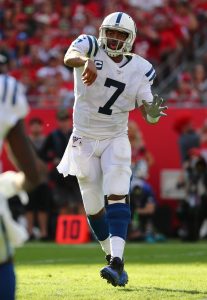 Starting quarterback Jacoby Brissett had a pretty strong start to the season, but he has struggled in recent weeks as the Colts have fallen out of playoff contention. He is due a $6MM salary in 2020 to go along with a $7MM roster bonus that has already been triggered, but Indianapolis will have plenty of cap space and can afford to carry him on the books even if it selects a young QB.
The 6-8 Colts could find themselves with a mid-first round selection, which may put them in position to land (or trade up for) a collegiate passer like Justin Herbert or Tua Tagovailoa. If they are sufficiently intrigued by such a player, they could easily groom him behind Brissett while parting ways with Brian Hoyer, whose guarantees have already been paid out.
One thing that Colts fans should not hold out hope for, according to Rapoport, is a return of Andrew Luck. "With Andrew, at this point I just kind of take him for face value and we'll see what happens because only he can decide," owner Jim Irsay said. "From talking to Andrew, we have to take him at face value for what he says. So [GM] Chris Ballard and I and [head coach] Frank Reich, we have to move forward. And we are with Jacoby and the next draft and thereafter."
Photo courtesy of USA Today Sports Images.