Union chief DeMaurice Smith and president J.C. Tretter held a conference call with media members today, during which they discussed various COVID-19 issues.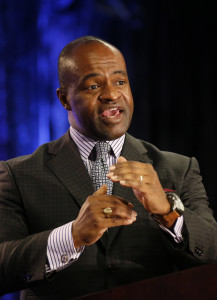 Starting on the financial side of things, Smith told reporters that the salary cap could decrease by as much as $70MM in 2021, unless the union and league come up with a solution to spread out that damage over several years (Twitter link via Dan Graziano of ESPN.com). Obviously, the union would prefer the latter option, and it has summarily rejected the NFL's most recent economic proposals. Smith said he does not want players to bear the brunt of the financial burden when they are also the ones exposing themselves to the virus (Twitter link via Matt Maiocco of NBC Sports Bay Area).
Of course, the league has made the decision to start training camp on time, and Smith concedes that the union has no ability to fight that. Instead, the NFLPA's objective is to ensure that the players are as safe as possible (Twitter link via Bob Condotta of the Seattle Times). To that end, the union has been in touch with team doctors, who have said, with a couple of reservations, that it is safe to open camp as planned (Twitter link via Condotta).
Indeed, a source familiar with talks between the NFL and NFLPA told Mark Maske of the Washington Post that those discussions were moving in the right direction and that there was reason to believe training camp could start on time (Twitter link). As Tom Pelissero of the NFL Network tweets, the Chiefs are telling players that camp is a go, with rookies and QBs to report for COVID-19 testing on Monday, July 20, and Ian Rapoport of NFL.com (via Twitter) says Texans players were told the same (the Texans and Chiefs play each other in the regular season opener). The full team is scheduled to report on July 25, and Pelissero adds in a separate tweet that multiple clubs have been sending tentative reporting dates to players.
Needless to say, there is plenty that still needs to be resolved. For instance, Texans star J.J. Watt, who has been involved in player calls, said yesterday (via Twitter) that players had yet to receive a single valid Infectious Disease Emergency Response (IDER) plan, and as Ben Volin of the Boston Globe tweets, players aren't supposed to report to camp until IDER plans have been approved. Per Graziano, "some teams" began sending to those plans to the union last night, which the union will need to review to ensure that they are in compliance with the negotiated protocols (Twitter link).
Meanwhile, Tretter says that the union has consulted with team doctors in hotspot markets to discuss how to report to camp safely (Twitter link via Graziano). It's unclear what, if any, additional protocols will be put in place for such regions, and Tretter also brought up another point that has largely been overlooked (via Darin Gantt of Pro Football Talk). He said, as a center, he is in close contact with every player in the offensive huddle and every defensive lineman during practice. If he tests positive, how would the league determine how many people to quarantine, and for how long?
That is one critical unanswered question, and Smith conceded there is no firm answer as to how many positive tests it would take to force an entire team to shut down. He did emphasize that the union continues to push for daily testing, which the league is still opposing.
Smith also said he is unaware of any players who have elected to opt out of the 2020 season (Twitter link via Condotta). We covered the most recent updates on the opt-out situation earlier this week.
Photo courtesy of USA Today Sports Images.