It was said earlier this offseason that Broncos RB Jamaal Charles may only have a 50-50 chance to make Denver's roster, and no one seems to know when he will make his preseason debut. He did not participate in the team's first preseason matchup Thursday night, and head coach Vance Joseph said, "I'm not sure yet," when asked if Charles would play against the 49ers next Saturday, as Nick Kosmider of the Denver Post writes.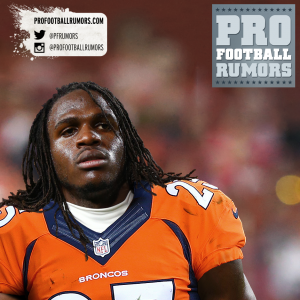 If Charles did not have a history of injury problems, his not participating in any preseason games would not be a big deal. After all, he is entering his tenth professional season and his track record of production (when healthy) speaks for itself. But he has undergone multiple knee surgeries over the past several years, and he has seen limited practice time this offseason as he continues to recover.
That reality, combined with Charles' fairly modest contract, helped generate the earlier reports that Charles' roster status was up in the air. But the fact that Joseph said several weeks ago that the team would continue to proceed cautiously with Charles even though he was fully cleared from a medical standpoint indicated that Charles was going to make the club, and as Kosmider reports, his full-team repetitions have been elevated during the past week. Devontae Booker's recent injury has also given Charles a little job security.
Nonetheless, Joseph did say that he would "probably" need to see Charles participate in a preseason game before he makes a final decision. While it currently seems as if Charles has a good chance to make the team and be a significant contributor to boot, it's fair to wonder if injuries and age have caught up with him, especially given that his game is predicated on speed and elusiveness.
For his part, Charles said he has had no setbacks, even though he has made a concerted effort to test his knee as much as possible. He said, "I don't think I have to prove anything. People know what I can do. I feel confident. Whatever Coach Vance and the trainers say, that's their direction. I'm just out here every day just getting healthy and getting my craft ready and preparing to play whenever."
Photo courtesy of USA Today Sports Images.