The Redskins made waves last year when they claimed embattled linebacker Reuben Foster off waivers from the 49ers. Months later, team president Bruce Allen says he expects Foster to suit up early in the 2019 season without a suspension from the NFL.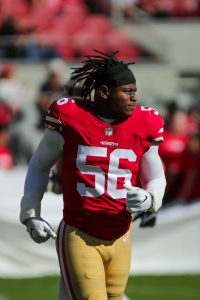 "The charges have been dropped, there are no complaints, so it's time for him to play football," Allen said on Friday (via Les Carpenter of the Washington Post).
Foster, a 2017 first-round pick, is among the most talented linebackers in the NFL. He's also one of the league's most controversial players due to his off-the-field transgressions.
Foster was accused of roughing up his ex-girlfriend, Elissa Ennis, in February of 2018. Ennis went on to recant that story, but, in November, she alleged Foster of abusing her once again at the 49ers' team hotel in Florida. This time around, she is sticking to her story, but the Redskins claimed her days after the police report was filed. At the time, the Redskins said Foster would not play if the latest round of accusations appeared to have merit.
The NFL suspended Foster for the first two games of the 2018 season for violations of the league's personal conduct policy, owing to the California arrest and a related weapons charge. The Redskins might feel that Foster is in the clear, but commissioner Roger Goodell says another suspension could be forthcoming.
Despite a potential ban, Foster is very much in the Redskins plans for 2019. When asked if Foster's availability has been taken into account this offseason, Allen replied, "Oh, we consider him strongly."
Photo courtesy of USA Today Sports Images.