Eight years ago today, Rob Gronkowski inked the most lucrative deal for a tight end in league history. The Patriots tacked another six years on to the two remaining seasons of his rookie contract at $54MM, locking him down through the 2019 campaign.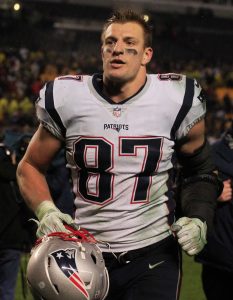 [RELATED: Patriots Explored Cam Newton Deal?]
The deal made plenty of sense for both sides. With $13MM fully guaranteed and $18MM guaranteed for injury, the 23-year-old scored some serious financial security early in his career. Through his first two NFL seasons, the former second-round pick made less than $2.5MM in total.
Meanwhile, the Patriots locked down a tight end coming off of a First-Team All-Pro selection. Although he impressed as a rookie, Gronk took his game to a new level in 2011 as he caught 90 passes for 1,327 yards and 17 touchdowns with a catch percentage of 72.6%. Even today, those numbers stand as Gronk's career bests.
A broken forearm sidelined Gronkowski for five games in 2012. Shortly after returning, he re-aggravated the injury in the Pats' first playoff game and missed out on the AFC Championship game. In the offseason, the forearm became infected, forcing the tight end to undergo the third and fourth surgeries of his career. In June of 2013, he had back surgery. Then, in a late-season contest against the Browns, he suffered a torn ACL and MCL in his right knee. Gronk was undoubtedly grateful for his injury guarantees at that time.
There were more ailments to come, including a less serious knee injury in 2015 and a pulmonary contusion in 2016, but Gronkowski continued to be one of the very best at his position. Meanwhile, the salary cap continued to grow and the tight end market advanced. Over time, Gronk's record-setting deal started to look more and more team-friendly. In 2014, Jimmy Graham signed a deal that made him the league's highest-paid tight end with an average annual average value of $10MM and $16.5MM in full guarantees.
Eventually, something had to give. Prior to the 2017 season, the Pats tweaked Gronk's deal to incentivize his performance while protecting the team against another injury-marred season. The deal gave him a base salary of $5.25MM with incentive packages at three different tiers:
A total salary of $10.75MM with either 90% play time or 80 catches or 1,200‪ receiving yards or an All-Pro nomination.
A total salary $8.75MM with 80% play time or 70 catches or 1,000 receiving yards or 12 touchdowns.
A total salary of $6.75MM with 70% play time or 60 receptions or 800 receiving yards or ten touchdowns.
With 1,084 yards (off of 69 receptions with eight touchdowns), Gronkowski satisfied the middle tier requirement. However, thanks to his First-Team All-Pro selection, the tight end maxed out his 2017 package. After that, Gronk asked the Pats to sweeten the pot once again, and they obliged with a similar incentives package worth up to $3.3MM for the 2018 season. The Patriots also came close to sending Gronk to the Lions, an indication that all was not well between the two sides.
The 2018 wound up being Gronkowski's final season in a Patriots uniform. At the age of 29, Gronkowski retired. One year later, he pushed the Patriots to trade him to the Bucs, rebooting his bromance with longtime pal Tom Brady.
Photo courtesy of USA Today Sports Images.