Pending free agents:
Top 15 cap hits for 2016:
Notable coaching/front office moves:
Draft:
Other:
Overview:
The Vikings took the next step in a quick rebuild and clinched their first NFC North championship since the Brett Favre-led 2009 squad secured the title en route to the conference title game. Blair Walsh's missed 27-yard field goal in the final seconds of Minnesota's Wild Card game concluded the team's march and presided over the Vikes' accomplishments in the eyes of many, but judging by where the team was when Mike Zimmer was hired in 2014, the ex-Bengals DC's second season in Minneapolis was a rousing success.
Most of the players responsible for the Vikings' 11-5 campaign will return; Minnesota doesn't face the kind of free agency gridlock some of its playoff-qualifying brethren are encountering as the 2015 league year concludes.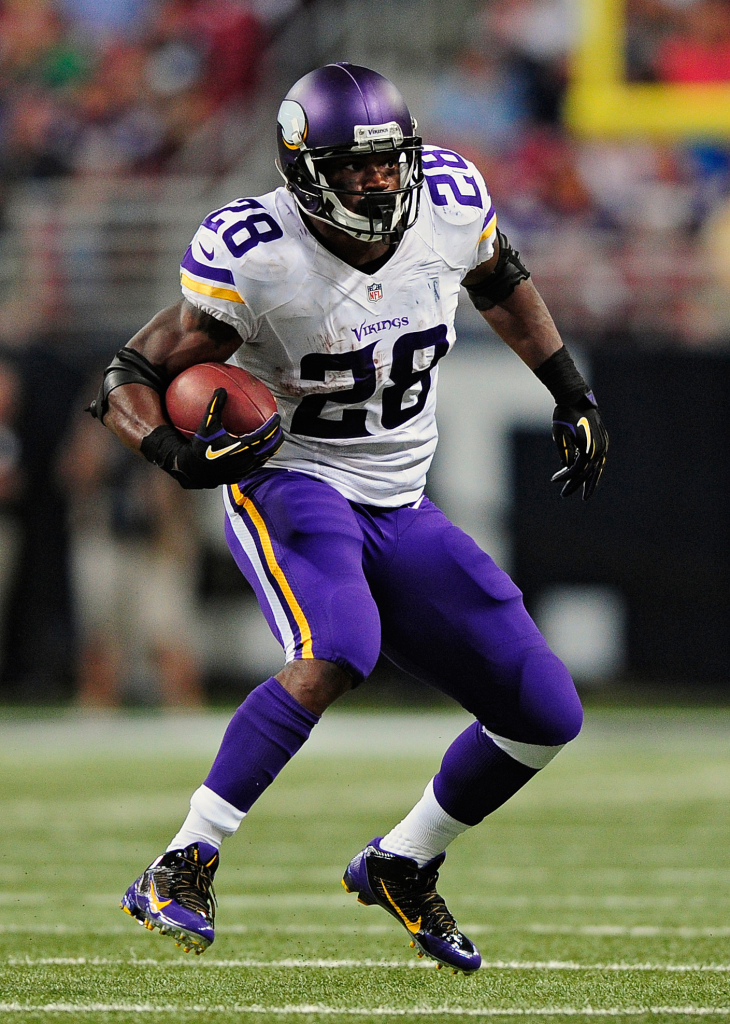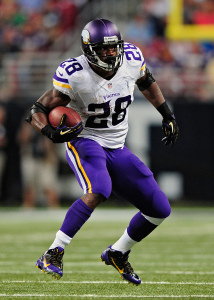 Adrian Peterson's threats of not playing for the Vikings again, or trade demands that never materialized, are in the past now. The running back remains the team's offensive centerpiece despite venturing into his age-31 season. Peterson's three rushing titles are the most since Barry Sanders and Emmitt Smith each finished with four between 1990-97. The Vikings' workhorse back winning rushing crowns seven years apart also matches Sanders, who led the league in ground gains in 1990 and 1997. Peterson earned this honor on the fewest carries of his three NFL-leading seasons, at 327, but even though he was a healthy inactive essentially for 15 games in 2014 – preserving his body to some extent – All Day's workloads should be monitored at his age.
The Vikings' aerial attack, however, did not take flight, with Teddy Bridgewater failing to build on the promise he showed as a rookie. Bridgewater threw just 14 touchdown passes and largely operated like a low-level game manager in the Peterson-fueled offense.
Stefon Diggs looks to have carved a spot in Minnesota's starting lineup going forward, while trade acquisition Mike Wallace sputtered and may well have punched a ticket out of the Twin Cities. Injuries on the offensive line emerged again, but Joe Berger enjoyed a standout slate filling in for John Sullivan. Rookie T.J. Clemmings didn't exactly lock down the right tackle job for the future did receive 17 starts worth of seasoning in place of Phil Loadholt. A longtime backup, Berger graded as Pro Football Focus' second-best center and best run-blocking snapper.
Defensively, Minnesota finished in the middle of the pack but had to compensate for injuries to their best three defenders in Linval Joseph, Anthony Barr and Harrison Smith, who combined to miss nine games. All three were PFF marvels, with Smith ranking as the analytics site's best safety — by far — and Joseph's standout season slotting in behind only Aaron Donald and J.J. Watt among interior defensive linemen. A dynamic talent who has displayed elite abilities in pass rush and coverage, Barr rated only behind Luke Kuechly among non-rush linebackers.
These three are under contract for 2016, with Barr and Joseph signed through 2018, pending the Vikings eventually picking up the outside backer's fifth-year option. Joseph's contract in particular looks like a bargain. The 27-year-old's the ninth-highest-paid 4-3 defensive tackle at $6.25MM per season, signing his deal a year before Ndamukong Suh and Marcell Dareus inked accords paying them $19.06MM and $15.85MM per year, respectively.
Despite only finishing with the NFL's 14th-best defensive DVOA, the Vikings have a strong defensive core around which to build.
Key Free Agents:
Most of the Vikings' key expiring contracts come on defense, but none of the team's potential defectors are impact players at this point.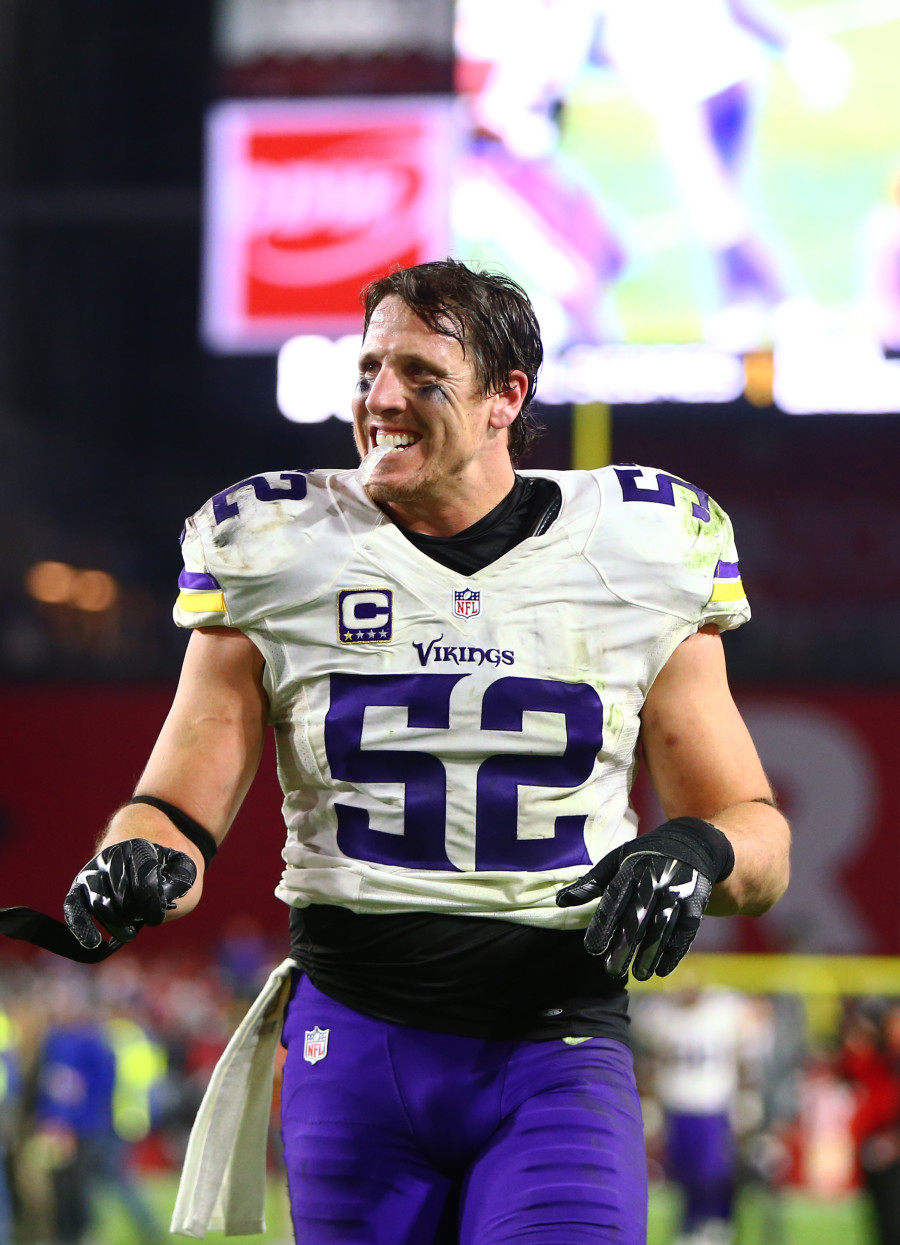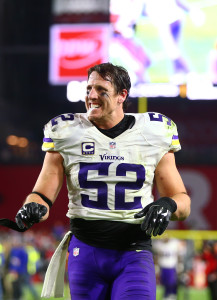 Arriving in the 2006 first round, Chad Greenway is the longest-tenured Viking. The former Iowa standout's started 135 games in his career, including 12 last season, but is the least important of the team's starting backers at this point and wouldn't warrant any kind of significant investment on a team with needs elsewhere. Greenway's said he'd like to re-sign with the Vikings, and Zimmer believes he'll be back. But it would likely be a one-year pact for the 33-year-old, so the team needs to line up a successor either way.
Safety Robert Blanton enjoyed an above-average 2014 season as a starter, but fellow UFA Andrew Sendejo beat him out for the job last season. The latter, however, was the fourth-worst full-time safety in the league in 2015, in PFF's view. Neither is worthy of much investment going forward. Minnesota will probably look elsewhere to add talent to further accentuate Smith's elite skills.
The Vikings' decision on Mike Harris should warrant more consideration. A 16-game starter for the first time, Harris delivered a quality season at right guard. Playing two seasons in Minnesota, the 27-year-old Harris helped hold together a line that endured staggering losses. Harris possesses versatility as well, having seen extensive time at tackle and guard, and will make for an interesting free agent as a result. The Vikings are already paying Brandon Fusco $4.85MM per season as one of the team's four offensive linemen playing on a second or third Minnesota contract. A Harris accord may not cost quite that much, but after what he showed last season, he won't be too much cheaper.
Terence Newman played well over his one-year contract and could be brought back. But the No. 5 overall pick in 2003 would be the oldest defensive back in the game next season — and possibly its oldest defensive player should James Harrison opt to retire — if he chooses to play again, turning 37 before the season starts.
The Vikes have invested well at cornerback, with two first-rounders, Xavier Rhodes and Trae Waynes, expected to start or see extensive time together next season. Captain Munnerlyn, PFF's top Minnesota corner last season, is set for the final season of his three-year contract as well. This won't rule out a Newman re-up, as he won't cost much and will likely be available on a one-year pact, but there are other options out there. Zimmer's former protege in Cincinnati, Leon Hall, could be a target, with the Bengals having invested even more than the Vikings at corner and Hall looming as a 31-year-old UFA.
Kenrick Ellis served as decent depth, but the Vikings are well-stocked on their defensive interior. Another team in need of a potential starter could easily pry away the former Jets third-round pick.
These being Minnesota's biggest free agents illustrates the solid footing on which the Vikings currently stand. Determining the futures of these UFAs are far from the biggest decisions the team must make this offseason.
Possible Cap Casualties:
The Vikings have some options, devoid of financial repercussions, to shed extensive salary if they so choose.
Mike Wallace currently has the team's highest cap charge for 2016. However, it's highly unlikely he'll enter the season with this status, and it's very possible the deep threat could be looking for a fourth NFL employer soon. Rick Spielman is planning to meet with Wallace's agent this week in hopes of convincing him to take a pay cut. This strategy didn't take in Miami, eventually forcing the trade that sent him north, but Wallace may be more receptive this time around considering the season he just compiled.
Wallace, who will turn 30 this August, is coming off by far his worst slate, catching just 39 passes for 473 yards (283 fewer than his previous career-low figure). The former third-round pick can probably still be a productive receiver; he snared at least five touchdown passes and gained no fewer than 756 yards in his first six seasons. But accepting a pay reduction will almost certainly be his only path back to the Vikings.
Wallace has no guaranteed money left on the lavish contract he initially signed with the Dolphins in 2013, and the eighth-year target acknowledged his contract and substandard year could make him a one-and-done Viking. The team only gave up a fifth-round pick to acquire Wallace last March.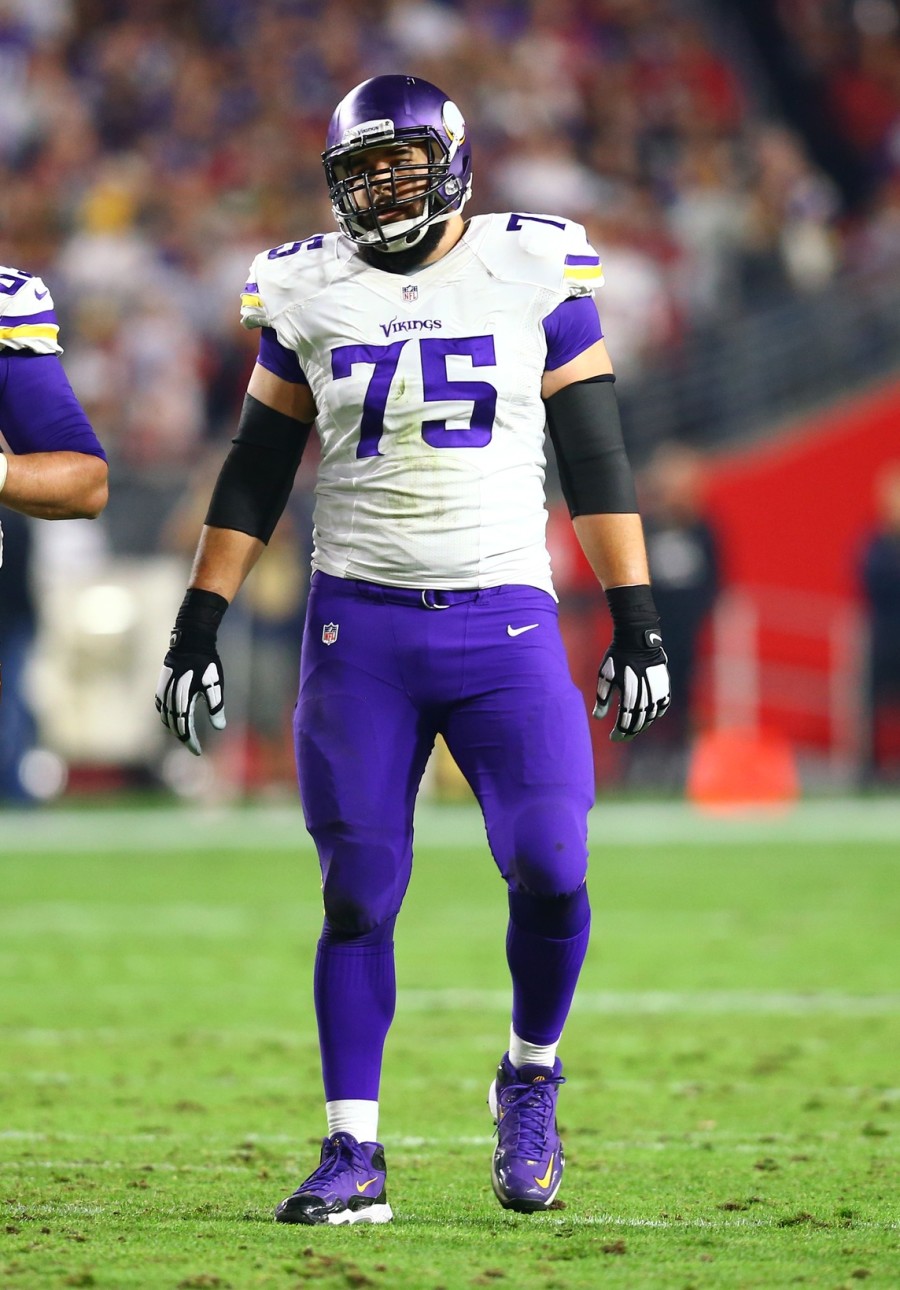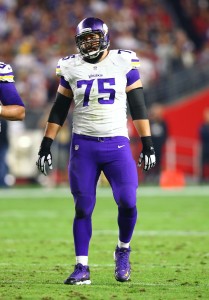 Minnesota's second-highest cap number belongs to Matt Kalil, as the Vikings exercised their fifth-year option, worth over $11MM, on their inconsistent left tackle last season. The Vikings could save that entire figure by cutting Kalil, whom they're reportedly torn on retaining. The promise of Kalil's rookie season, when he booked a Pro Bowl berth and gave Vikings fans the impression their left-edge spot was set for the decade's remainder, has not resurfaced much in the three years since. But the Vikings don't have a viable alternative to Kalil at this point, making a release riskier than shedding Wallace's salary.
Rick Spielman's first draft choice as GM, Kalil improved some last season, but was still a below-average tackle and as of now will be paid like an elite blocker. Among offensive lineman, only D'Brickashaw Ferguson and Tyron Smith feature higher 2016 cap holds than 2012's No. 4 overall pick does right now.
Cutting Kalil and Wallace could nearly double Minnesota's projected cap space, ballooning it to more than $45MM, and would allow further bolstering of an already strong roster.
Phil Loadholt won't generate that kind of cash influx if he's released, but that's a possibility as well. The Vikings could create $6MM in additional space by releasing their longtime right tackle.
Loadholt – whose current situation is a lower-profile version of Ryan Clady's in Denver – has missed the last 21 Vikings regular-season games because of severe injuries. A torn pectoral ended Loadholt's 2014 season and a string of five consecutive seasons in which he'd started at least 15 contests, and the torn Achilles he suffered before last season shelved him in 2015. Like Clady, Loadholt proved productive prior to his health issues, grading out as a top-five tackle in 2013 (per PFF) and playing well in '14 before going down with an injury.
A former second-round pick who recently turned 30, Loadholt is owed a career-high $7.75MM as part of the final year of the four-year contract extension he signed in 2013. The former upper-echelon right tackle could very well be released or, like Wallace, asked to take a pay cut.
Positions Of Need:
One thing working for Loadholt's status in the Twin Cities: T.J. Clemmings' struggles as a rookie on the right side. The reconfigured line sans John Sullivan and Loadholt — which was the game's only quintet to start all 16 games together — provided Teddy Bridgewater with the second-worst pass protection in football last season, according to Pro Football Focus. Clemmings came in at No. 67 among PFF's graded full-time tackles last season. While Mike Harris thrived on moving from tackle to guard, Brandon Fusco didn't take to left guard as well as his previous right-side spot.
The Vikings now have the 30-year-old Sullivan and Loadholt — who each started from 2009-14, bridging the gap from Favre to Bridgewater — back but also no clear starting spot for Joe Berger. A solution could be sliding the veteran backup to left guard and moving Fusco back to the right side at which he excelled, where he can replace the departing Harris. Clemmings, who is also an option at right guard after he worked there last summer as a rookie, didn't look ready to start full-time at right tackle based on his 2015 performance. But if the Vikings decide the $6MM in cap savings outweighs Loadholt's potential to remain effective, Clemmings could have a clearer route to a starting gig.
Nevertheless, some additional youth will be required here, either in the form of a free agent in search of his second contract or an early-round rookie.
It's possible the Vikings could have three starters in their 30s blocking for a 31-year-old running back. If Sullivan — who like Loadholt proved durable from 2009-14 — can return to the level at which he played before the Vikings awarded him with a third contract last April, this unit could be a strong outfit in the short term. Sullivan is due to take up reasonable $5.83MM cap numbers the next two seasons. But relying on two injury comebacks from early-30s performers is obviously not ideal.
In order to line up long-term options on the offensive line, the Vikings will need to add some reinforcements soon. Minnesota has enjoyed success in finding linemen through the draft, but amazingly hasn't selected an interior-line cog in the top three rounds since 2006. If that streak continues – which it probably shouldn't considering where some of the gems the team drafted are at in their careers – a deep guard class could factor into that decision.
With both Sullivan and Berger under contract, center doesn't make much sense as a priority in free agency, but the other spots could use the depth. As far as second contract-seeking guards go, Alex Boone, Ramon Foster, Brandon Brooks, Jeff Allen, and obviously Kelechi Osemele represent the notable free agent options, along with Harris. This would be an area to target for veteran assistance.
Evan Mathis, Jahri Evans and Richie Incognito are also available, but the Vikings as of now already have too many 30-somethings on second or third deals up front.
At tackle, Minnesota may need more help. Mitchell Schwartz and Andre Smith are the top unrestricted options, but Schwartz in particular would require a significant financial commitment — something closer to the mammoth extension Lane Johnson just received ($11.25MM AAV) than the position's second tier of Bryan Bulaga/Jermey Parnell/Austin Howard/Marcus Gilbert, who play for around $6MM on average. Considering both Kalil and Loadholt are carrying top-five salaries at their respective positions, adding another pricey edge blocker will not be realistic as long as they're both still around.
Joe Barksdale, who was about the only good thing involved with the Chargers' front in 2015, is another potential target for the Vikings at tackle. Barksdale's market stalled last spring, but he's only 27 and has played 16 games in each of the past three seasons.
If Minnesota wants to shake things up and move on from Kalil, the non-Cordy Glenn contingent on the left side doesn't include a bevy of fits. Donald Penn wouldn't provide the kind of youthful complement the team needs. That leaves Russell Okung as perhaps the top prize if Glenn gets the Bills' franchise tag, which will make Okung awfully expensive.
The Vikings will have to make interesting choices here, as this is one of the more fluid offensive line situations in football. As of now, none of the starting five are locked into a job in 2016.
If Mike Wallace isn't receptive to a pay cut, it might be a positive for the Vikings' wideouts. The team will bring back Stefon Diggs and the suddenly viable Jarius Wright, and Charles Johnson should be given another chance to recapture the form he showed in the second half of 2014, but Minnesota will still will look to upgrade on the outside.
In terms of a downfield threat, Wallace still fits the bill in theory with his elite speed, but he didn't have a single reception of 35+ yards in 2015. Travis Benjamin appears to be headed toward the market after talks broke down with the Browns, and the fifth-year breakout performer could provide an upgrade. However, Benjamin doesn't have much to go on besides his contract season. Seattle may allow Jermaine Kearse to reach free agency, and he's a more consistent target than Benjamin, who suddenly went off for 68 receptions last year on a terrible Browns team after combining for 41 in his first three campaigns. Kearse, or someone like Rishard Matthews, would bring a solid presence opposite Diggs.
Marvin Jones' history working against Mike Zimmer charges in practice in Cincinnati could lead somewhere, but he doesn't profile as a downfield receiver the Vikings ideally need to supplement Diggs. As for Mohamed Sanu, he's a better receiver than Cordarrelle Patterson, but his penchant for gadget-style gains may be too close to Patterson's ill-fitting repertoire for the Vikings to pursue him.
Regardless of the moves the Vikings make to address the wide receiver position, it will be on Bridgewater to elevate the team's passing game into an above-average attack instead of what the Vikings put on display last season.
On the defensive side of the ball, rookie UDFA Anthony Harris showed some promise toward the end of last season, but the Vikings will look to address their other safety spot. With Harrison Smith likely set for an extension, Minnesota won't look to add a top-shelf safety. But there are plenty of quality options out there this year, including two with a recent history in Zimmer's system.
Both of the Bengals' starting safeties, Reggie Nelson and George Iloka, are headed for free agency, and each played extensive snaps under Zimmer's tutelage. Despite the fact that the 32-year-old Nelson led the NFL in picks last season, Iloka may warrant a bigger contract due to entering just his age-26 season. He has been a three-year starter, lining up with the first-stringers in 16 games for the 2013 Bengals under Zimmer. Iloka also enjoyed a balanced 2015, showing a near-equal acumen for deterring the pass and the run. An ideal complement for Smith, Iloka's best years are probably ahead of him. The former fifth-round pick's connection to Zimmer makes Iloka worth monitoring in Minnesota.
If Nelson's market dries up due to concerns about his age, a short-term deal to team him with Smith wouldn't be a bad idea. In the event one of Cincinnati's back-line bastions doesn't make his way to Minneapolis, the Lions' Isa Abdul-Quddus or the Cardinals' Rashad Johnson could be options. Still, with Smith in the fold, this isn't a pressing need.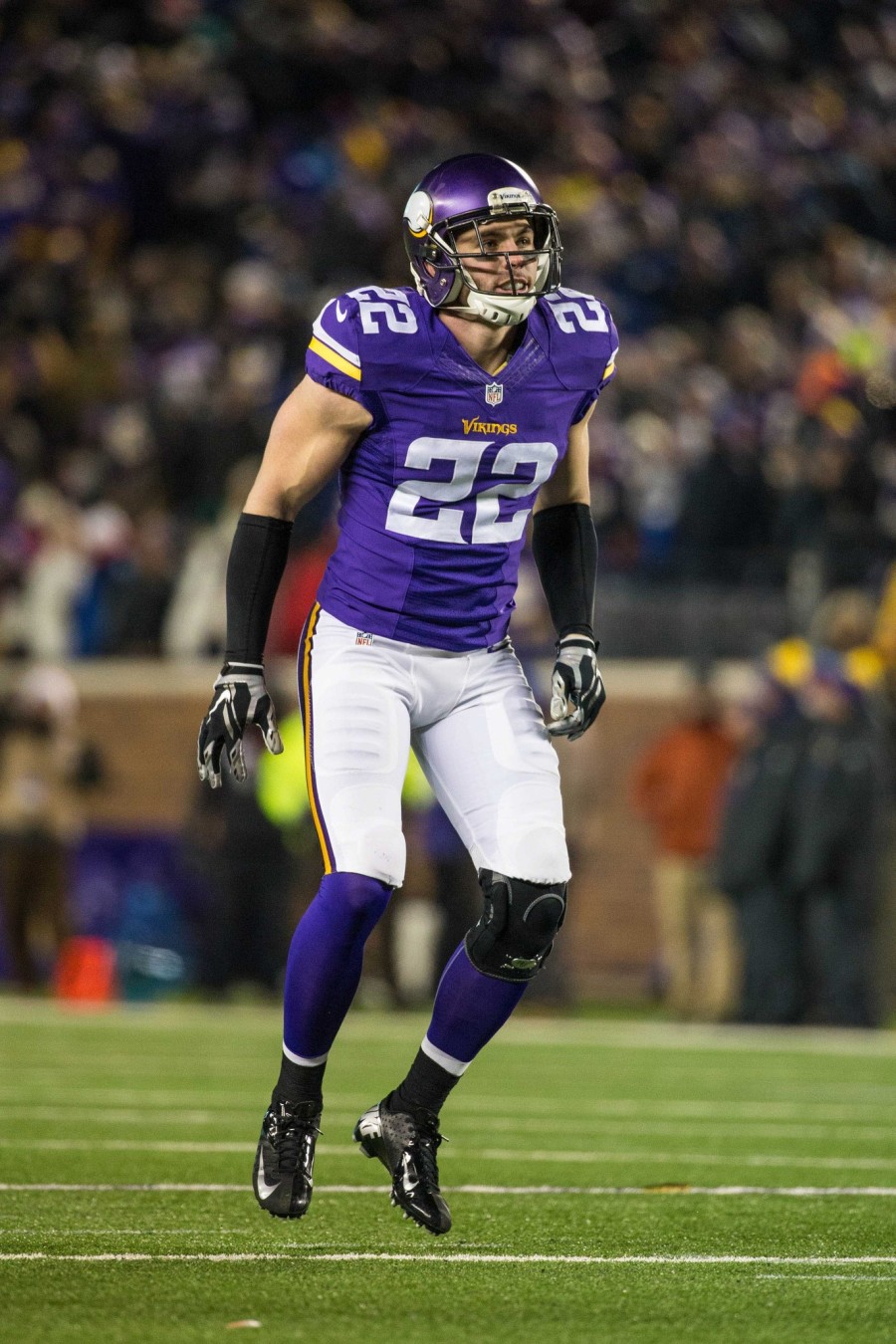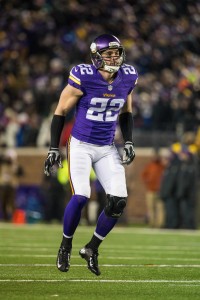 Extension Candidates/Contract Issues:
Already secured via a comfortable fifth-year option, Harrison Smith will be a cornerstone player in Minnesota for the foreseeable future. His first Pro Bowl berth was overdue, and an extension should be a formality. Rick Spielman will look to ensure that the second selection of his GM tenure stays visible in Minnesota, since a player with a combination of Smith's versatility and play-making skills doesn't come along often.
Smith will rightfully look for top-tier safety money, with contracts like Devin McCourty's, Jairus Byrd's and Eric Berry's forthcoming deal as comparables. Both McCourty and Byrd signed for at least $9MM AAV in 2014 and '15, respectively. With the cap rising at the rate it is, Smith could justifiably ask to exceed those accords and join Earl Thomas as the only other safety averaging an eight-figure salary.
Spielman also should have relatively quick decisions on exercising the fifth-year options for Xavier Rhodes and Sharrif Floyd, with the latter playing alongside Linval Joseph to make up one of the game's top interior-line tandems. Rhodes still profiles as the Vikings' No. 1 corner despite his inconsistent 2015. He should be given this season and next to establish the value of his second contract. The prospective prices for both of these moves — fifth-year options for defensive tackles selected at Nos. 11-32 cost $6.15MM in 2015, with cornerbacks taken outside the top 10 taking up $7.51MM of a team's cap — aren't deal-breakers by any means.
The team's fifth-year option decision regarding Cordarrelle Patterson should be just as easy. Patterson hauled in just two passes despite being healthy for 16 games, making his 2015 campaign one of the more anonymous seasons by a first-round wideout playing for the team that selected him. The former first-team All-Pro return man has not proven worthy of an extra year's worth of Minnesota-based development. With Patterson's 2017 option year set to cost at least $7.3MM, this is a non-starter.
Overall Outlook:
The Vikings have some intriguing choices to make, but possess the nucleus to battle the Packers and repeat as NFC North champions. If the Vikings can solve their offensive line matrix and continue to reap rewards from employing one of the league's greatest running backs, their running game and their promising defense – which will return mostly intact – gives them one of the NFC's best rosters.
Teddy Bridgewater's development will be essential for catalyzing Minnesota's pursuit of further playoff advancement, but there's a lot of reason for optimism up north as the new league year approaches.
Information from Over The Cap was used in the creation of this post. Photos courtesy of USA Today Sports Images.