Following up on yesterday's rumor that the 49ers were interested in bringing back potential free agent safety Tashaun Gipson, the two parties have agreed to a new one-year contract to keep Gipson in red and gold, according to Mike Garafolo of NFL Network. Gipson will return to start in the defensive backfield opposite first-team All-Pro Talanoa Hufanga.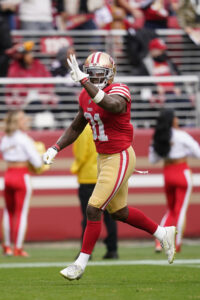 Gipson joined the 49ers just prior to the start of the 2022 season, eight days before the 53-man roster cut deadline. He didn't make the initial 53-man roster and was signed to the practice squad. Gipson was a practice squad elevation in Week 1 to fill in for an injured Jimmie Ward and, two days later, was officially promoted to the active roster.
Gipson had a resurgent 2022 season for San Francisco returning five interceptions for 141 yards, numbers he hadn't reached since his early years in Cleveland. He started every game of the season at safety alongside Hufanga, with both helping to form the league's best scoring defense.
Gipson's new deal is worth $2.9MM, according to Doug Kyed of A to Z Sports. The contract has a guaranteed amount of $2.17MM consisting of a $1MM signing bonus and $1.17MM of salary. Gipson will receive a per game active roster bonus of $40,000 for a potential additional season total of $680,000. He'll also receive a $50,000 workout bonus. The deal also includes $300,000 in potential incentives that can be triggered through interceptions, fumble recoveries, playing time, team achievements, and a Pro Bowl selection. The contract includes three voidable years to spread out Gipson's cap hit.
It was assumed that only one of Gipson or Ward would be re-signed, sending the other to the free agent market. With Gipson's new contract, Ward, the longtime 49ers defensive back, will likely be testing the free agent waters. It may be difficult to say goodbye to Ward, who has been with the team since 2014, but it's hard not to recognize the outstanding accomplishments of Gipson's surprising year.
From beginning the year on the practice squad to starting every game of the season, Gipson surpassed all expectations and had a strong season while doing so. In return, Gipson has earned an opportunity to stay with one of the league's top defenses, which should only assist him in continuing to excel.