The Bengals fell just short of their first ever Super Bowl win this past year and many blamed the loss on a less than stellar offensive line. This issue is something that the Bengals have certainly been attempting to address in the last few drafts selecting four offensive linemen in the last two years and seven in the last four. One of those draft investments may be nearing the end of his opportunities, despite the fact that he is only headed into his second NFL season.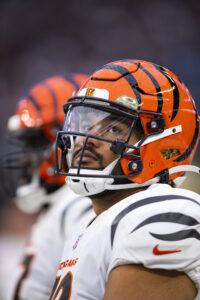 In a recent roundtable discussion for The Athletic, Bengals writer Jay Morrison put forth the idea that Cincinnati may be losing patience with 2021 second-round pick Jackson Carman. The guard out of Clemson was brought in with the expectation that he would take over at right guard as a rookie. Carman was unable to unseat Quinton Spain and, perhaps even more concerning, was unable to provide an improvement anywhere on an offensive line that continued to struggle throughout the season.
The Bengals set out this offseason to nearly completely renovate their offensive line. The team brought in Ted Karras on a three-year, $18MM deal to start at center and signed guard Alex Cappa to a four-year, $40MM contract to start on the left side of the line. In a third big free agency signing, The Bengals were able to ink tackle La'el Collins to a three-year, $21MM deal to start opposite the only bright spot of the offensive line last year, blindside tackle Jonah Williams. Williams became an immediate starter for the Bengals after being selected 11th-overall in 2019 and, after missing six games due to injury as a rookie, Cincinnati was happy to see him start in every game but the season finale last year.
With four spots effectively manned for the 2022 season, that left only the right guard spot left to fill. Once again the door to a starting spot was left wide open for Carman. With a year of NFL conditioning under his belt, all the former second-round pick had to do was step in and not let the job slip through his fingers.
Yet, in the weeks leading up to the regular season, that seems to be exactly what we're seeing, with reports that fourth-round rookie Cordell Volson seems to be pushing Carman out of the starting role. The lineman out of North Dakota State has experience playing both tackle and guard in college and turned heads early at camp. After impressing the coaching staff in practices and the team's first preseason game, Volson was offered more of an opportunity to receive first-team reps. Carman certainly didn't help his own case after testing positive for COVID-19 and granting more playing time for his competition.
The latest danger for Carman's roster spot comes just after the 53-man roster cuts, when the Bengals made claims on three players, one of them being former second-round pick Max Scharping. Scharping has underwhelmed a bit, as well, in his young career, but has extensive experience over Carman after starting 33 games for the Texans.
Carman has lost two position battles in as many years despite the odds being stacked in his favor. His lack of ability to clinch either of those starting jobs could certainly have resulted in a loss of trust from his coaches. According to Morrison, if Scharping comes in and can quickly get up to speed with the offense, Cincinnati may have no need to retain Carman.