Free agent receiver Marques Colston hasn't drawn any known interest since being released by the Saints in February, and that could be by design. As Colston explains to Joel Erickson of the Advocate, he's just about ready to hang up his cleats for good.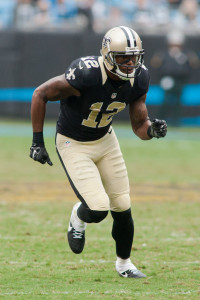 [RELATED: Saints Could Explore Brandin Cooks Trade]
"Nothing official, but I'm not actively looking to play right now," Colston said. Although an August report indicated that Colston could begin looking for work after rehabbing a shoulder injury, the longtime Saints receiver tells Erickson that wasn't his intention. "I was rehabbing the shoulder for a while," Colston said. "I got to a point where I knew I wasn't going to move forward, and really just having a lot of things lined up off the field made it an easy transition."
Colston, 32, had been with the Saints since 2006, when he was selected in the seventh round of the draft, 252nd overall. The Hofstra product had been one of the most productive pass-catchers in the NFL – and the Saints' all-time leading receiver — since then, racking up six 1,000-yard seasons and 9,759 overall receiving yards over the last decade.
Photo courtesy of USA Today Sports Images.