Two years ago today, Mychal Kendricks agreed to terms with the Browns. At the time, the one-year, $2.25MM deal looked like a solid value pickup for the Browns in the second wave of free agency. Instead, the linebacker never played a down for Cleveland.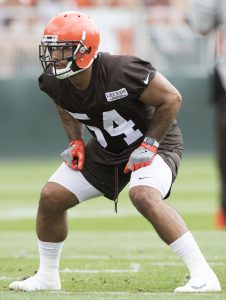 What we didn't know at the time was that Kendricks was involved in a federal investigation for insider trading. Kendricks were aware of the situation, but they say they weren't clued in on all of the details. Prosecutors alleged that Kendricks and his co-defendant turned $80K in a brokerage account into $1.2MM inside of five months. The insider trading charges he faced could have imprisoned him for up to 37 months, keeping him off the field for at least three years.
When Kendricks' charges were announced just before the start of the 2018 season, the Browns dropped him. Days later, on Sept. 6, he pleaded guilty in court. Then, just one week after that, Kendricks inked a one-year deal with the Seahawks. Kendricks still had sentencing and a lengthy NFL suspension ahead of him, but Pete Carroll & Co. didn't want to pass up the chance to sign him at a bargain basement minimum-salaried rate.
Despite the off-the-field issues, Kendricks offered up an impressive resume from his time in Philly, including 74 career starts, 14 sacks, and a 77-tackle campaign in 2017 en route to a Super Bowl ring. Kendricks spent most of 2018 sidelined as he duked it out with the league office, but he returned to form in 2019 as he started in all 14 of his games, tallied 71 stops, and notched three sacks.
Now, Kendricks finds himself in NFL and legal limbo once again. Kendricks was originally set for sentencing on January 23, 2019, but thanks to multiple postponements and the COVID-19 pandemic, Kendricks won't face the judge until May 29, at the earliest. And, after suffering an ACL tear in January, the Seahawks found linebacker help elsewhere. Depending on how things go from here, Kendricks may eventually find a market for his services as a free agent. Still, it might be a while before we see him back in the fold.
Photo courtesy of USA Today Sports Images.