The Buccaneers have signed Ryan Succop, as Tom Pelissero of NFL.com tweets. To make room, they've dropped fellow kicker Elliott Fry.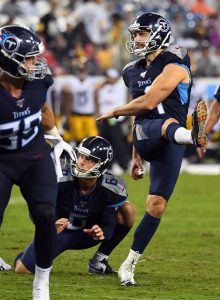 Succop will now compete with incumbent Matt Gay for the top (and only) placekicking job. As a rookie, Gay struggled from close range, something that frustrated head coach Bruce Arians.
"Competition is the baseline of the NFL," Arians said recently. "Everybody's fighting for a job, and if you don't perform, someone's right there ready behind you, ready to take your spot. It's no news to me that guys are in here competing for a shot and they're going to bring competition in. Competition is going to breed success, and I think the potential of our team this year is super-high, and I think the kicking position is very important."
Succop made just 1 of 6 field goals in his final Titans season, which began and ended on IR. But, before that, Succop played in every game for the Titans from 2014-18 and made at least 83% of his field goals in each of those seasons.
Photo courtesy of USA Today Sports Images.