On Tuesday, Cowboys head coach Jason Garrett told reporters that linebacker Sean Lee will be sidelined for "a little bit" with a hamstring injury. As it turns out, a "little bit" could turn out to be a long while. Lee's injury is expected to keep him off the field until December and could push his return into the final weeks of the regular season, David Moore of the Dallas Morning News hears.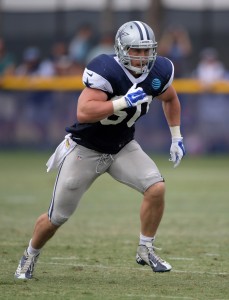 Lee is expected to miss the next four to six weeks of action, which means that he will be out until Dec. 9 against the Eagles, at best. At worst, that timeline would keep him out of action until the Bucs game on Dec. 23, the second-to-last game of the regular season.
Lee suffered his injury in the third quarter against the Titans on Monday night while chasing tight end Jonnu Smith on a completed pass. Lee also missed three games earlier this year, meaning that he has missed a total of 13 games due to hamstring issues throughout his career.
The Cowboys stayed afloat without Lee earlier this year thanks to the play of linebackers Jaylon Smith and Leighton Vander Esch. Still, they're a better defense with Lee on the field.
Photo courtesy of USA Today Sports Images.