Former 49ers/Eagles head coach Chip Kelly was viewed as a legitimate candidate for the Falcons' offensive coordinator position, but now that that role has been filled by former Alabama OC Steve Sarkisian, Kelly has no interest in replacing Sarkisian in Tuscaloosa or accepting any other collegiate job, according to Jason Cole of Bleacher Report (video link). Instead, Kelly hopes to remain in the NFL and ultimately land another head coaching or play-calling gig, per Cole.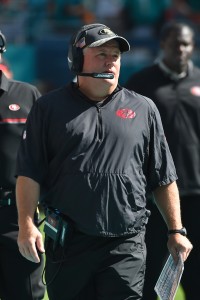 [RELATED: 2017 Head Coaching Search Tracker]
The idea that Kelly is eyeing an NFL job jibes with reports from earlier this offseason which indicated Kelly wanted to immediately jump back into the coordinator ranks. The problem, as our 2017 Offensive/Defensive Coordinator Tracker shows, is that every offensive coordinator vacancy in the NFL is now occupied. Kelly was in consideration for at least two of those jobs, as he interviewed with the Jaguars in addition to receiving interest from Atlanta. Additionally, Kelly recently met with the Patriots and close friend Bill Belichick, and could potentially take a position with New England.
Indeed, the most likely outcome for Kelly entails him taking some sort of offensive assistant/consultant job, and waiting for more coordinator vacancies to open in 2018.
Photo courtesy of USA Today Sports Images.