While Jacoby Brissett was asked to start in 2017 and 2019, he gave the Colts a high-end backup quarterback during their most recent two playoff seasons. But Brissett's four-year Indianapolis tenure is done; he is now in Miami.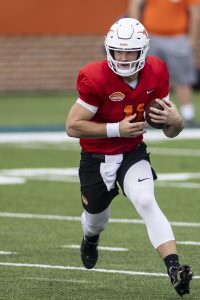 Currently stationed as QB2 options for the Colts: 2020 fourth-round pick Jacob Eason and sixth-round rookie Sam Ehlinger. Former Prairie View A&M passer Jalen Morton is also on the roster. Frank Reich said Eason, after his developmental rookie year, is currently penciled in as the Colts' backup. That appears to be the team's goal for the season.
Chris Ballard indicated discussions of backstopping Wentz with a more experienced passer have taken place. But the Colts want to go with one of their young QBs in this role.
"That's a great question. It's one we've definitely thought about," Ballard said of adding a veteran backup, via Fox 59's Mike Chappell. "Let's get through the preseason. Let's see where we are. We want one of these young guys to be the guy. We think they can. We'll keep working through that."
Carson Wentz has run into a few notable injury issues during his career. After missing time during his senior season at North Dakota State, Wentz tore multiple knee ligaments to end his 2017 MVP bid. A back injury then ended Wentz's 2018 season. He suffered a concussion in the Eagles' 2019 wild-card loss to the Seahawks. It would certainly make sense for the Colts to add here, but for now, Eason — Georgia's 2016 starter and Washington's QB1 in 2019 — is the guy.
The free agent market houses a few notable names. Journeyman Brian Hoyer, whom the Colts used as Brissett's backup in 2019, is available. So are Robert Griffin III, Brett Hundley and Sean Mannion, multiyear backups in Baltimore, Arizona and Minnesota, respectively. Nick Mullens played more than each during his backup stay in San Francisco, but he is recovering from elbow surgery.
Photo courtesy of USA Today Sports Images.