Kyler Murray's deal with the Cardinals contains offset language, according to Albert Breer of The MMQB (on Twitter). Offset language is usually at the root of most prolonged rookie negotiations, but the two sides managed to sidestep the issue and come to an accord on Thursday.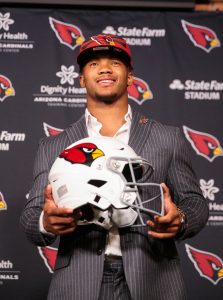 Offset language relates to what happens to a player's salary if he's cut during the first four years of his career, while he's still playing on his rookie contract. For the top 15 to 20 picks in the draft, those four-year salaries are fully guaranteed, even if a player is waived at some point during those four seasons. For example, if a player has $4MM in guaranteed money remaining on his contract and is cut, he'll still be owed that $4MM.
However, if a team has written offset language into the contract, that club can save some money if and when the player signs with a new team. For example, if that player who had $4MM in guaranteed money left on his contract signs with a new club on a $1MM deal, his old team would only be on the hook for $3MM, with the new team making up the difference. If there's no offset language on that first deal, the old team would continue to be on the hook for the full $4MM, and the player would simply earn an additional $1MM from his new club.
So, Murray appears to have accepted the typical offset language in a rookie deal, though his contract is not without unusual wrinkles. The pact also contains language that will void the deal if he leaves the NFL to pursue his baseball career.
Photo courtesy of USA Today Sports Images.