The Jaguars want to "move forward" with Leonard Fournette, but the running back wants to discuss some matters of business first. The former No. 4 overall pick wants the guarantees on his contract to be reinstated, according to Mike Florio of PFT.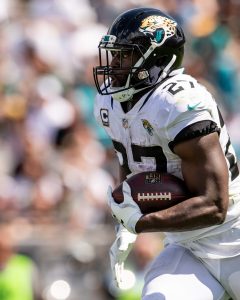 The entirety of Fournette's contract was guaranteed until the Jaguars used Fournette's late-season ban as reason to void the remaining guarantees on his rookie deal. Fournette's team believes that the language in his contract does not allow the Jaguars to 86 his guarantees over a one-game ban for on-the-field conduct.
Fournette topped 1,000 rushing yards during his rookie campaign in 2017, but still failed to manage four yards per carry. Last season, he was set back by injuries. In total, he appeared in only eight games in 2018, rushing for 439 yards and five touchdowns. On an efficiency basis, Fournette ranked just 32nd among running backs in Football Outsiders' DVOA and 26th in success rate.
If the Jaguars truly want to start fresh with Fournette, it might make sense for them to cave on this dispute.
Photo courtesy of USA Today Sports Images.