This week, Pete Carroll made waves when he said that the team is considering both Colin Kaepernick and RG3 as potential backups for Russell Wilson. Apparently, the team's interest in Kaepernick is far stronger than its interest in Griffin. Kaepernick is a "potential, legitimate option" that the Seahawks are mulling while the chance of a Griffin signing is more of a "remote possibility," according to Ian Rapoport of NFL.com (video link).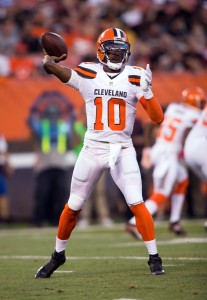 A few short years ago, the idea of Griffin being a potential backup quarterback was unthinkable. Now, RGIII wishes he could get real consideration as a backup quarterback. As far as we know, no teams have really pursued him this spring and Carroll's mention of him on Monday was the first time we've really heard his name from an NFL official this offseason.
Last year was supposed to be a fresh start for Griffin, but a major shoulder injury suffered in Week 1 of the 2016 season derailed everything. When the Browns activated him from IR later in the year, he still couldn't recapture the magic of his 2012 rookie campaign. Griffin did help the Browns to their lone win last season, but he did very little to boost his own market heading into free agency.
RG3 completed 87 of 147 passes (59.2% completion rate) and threw for 886 yards with two scores against three interceptions last year. If he had enough snaps to qualify for Pro Football Focus' rankings at QB, his overall score would have placed him among the worst at the position.
Photo courtesy of USA Today Sports Images.