The 2017 NFL Draft begins on Thursday night, and Pro Football Rumors is back with its second mock draft of the year. While our initial mock attempted to project what will happen in Round 1, we've taken a different approach for mock draft 2.0.
PFR editor Zach Links and I conducted this live mock draft on Tuesday morning, rotating picks and breaking down what we would do were we in charge of these selections. We posted each pick on Twitter, followed by a short explanation of our thought process on this page.
Here's the complete mock:
1. Cleveland Browns (Zach) – Myles Garrett, LB, Texas A&M
I suspect this is the easiest pick either one of us will make all day. Garrett is the best pure talent in this year's draft and the Browns would be foolish to go in any other direction at the top of the draft.
2. San Francisco 49ers (Dallas) – Malik Hooker, S, Ohio State
Reports that the 49ers are considering a quarterback with the second overall selection stand out as a potential smokescreen, and instead San Francisco uses the No. 2 pick to bolster its defense. Hooker, who recently earned a full medical clearance following combine rechecks, has been commonly linked to the Chargers as a perfect fit for Los Angeles defensive coordinator Gus Bradley's scheme. But the 49ers are running the same defensive look as the Chargers under new DC Robert Saleh, and Hooker would give the team a centerfielder with the upside of an Earl Thomas. San Francisco's plan to convert nickel cornerback Jimmie Ward to safety won't stop it from adding Hooker, who is possibly the draft's No. 2 overall prospect.
3. Chicago Bears (Zach) – Solomon Thomas, DL, Stanford 
Dallas' bold pick left my Bears with a golden opportunity. The Bears could go safety or cornerback in this scenario, but the talent of Thomas is too good to pass up. Thomas can be used on both the inside and outside of the Bears' defensive line and I see him as one of the safest talents on the board.
4. Jacksonville Jaguars (Dallas) – Gareon Conley, CB, Ohio State
No, we didn't forget the Jaguars used a top-five pick on Jalen Ramsey in 2016 and then handed a $67.5MM contract to A.J. Bouye in free agency last month. But one of Ramsey's key selling points last year was his versatility: while he's a shutdown corner at his best, Ramsey can man the slot, cover tight ends, and dabble at safety. As such, adding Conley doesn't mean Jacksonville is facing cornerback overload, especially given that NFL clubs are in the nickel more than two-thirds of the time. Conley is viewed as a safer prospect than his Ohio State teammate Marshon Lattimore, and he'd give the Jaguars a Broncos-like secondary.
5. Tennessee Titans (Zach) – Marshon Lattimore, CB, Ohio State
The Titans, arguably, get the best cornerback available in the draft even though they are the second team to address the position. No, we don't have a ton of film to go on for Lattimore, but his combine numbers indicate that he could be a megastar. Few teams in the NFL would have a young cornerback duo like the Titans if they can pair Logan Ryan with Lattimore.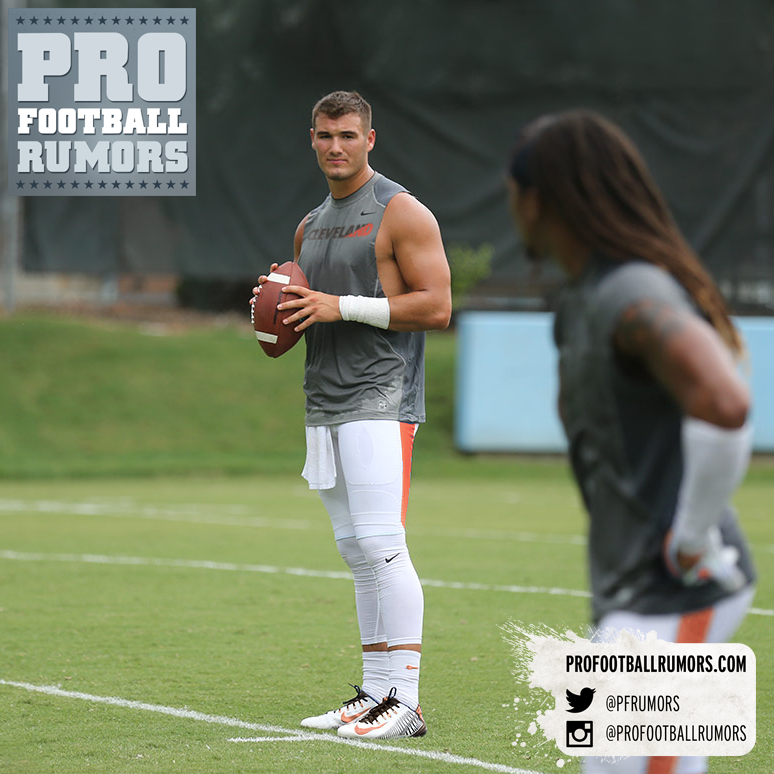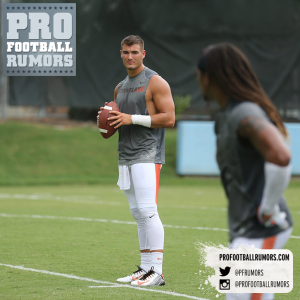 6. Cleveland Browns (projected trade with Jets) (Dallas) – Mitch Trubisky, QB, North Carolina
In need of a franchise quarterback, the Browns send the No. 12 and No. 52 pick to the Jets in exchange for No. 6 with the intention of drafting Trubisky. It's a slight overpay for Cleveland (at least, based on Chase Stuart of Football Perspective's draft value chart, which is likely what the Browns front offices uses), but it does the deal anyway to land a long-term option under center. Given that Browns owner Jimmy Haslam is reportedly pressing the club to select a quarterback early — and the fact the Cleveland may still be considering Trubisky with the first overall selection — landing the UNC signal-caller at No. 5 for the cost of a mid-second-round pick is a move the Browns can't pass up.
7. Los Angeles Chargers (Zach) – Jonathan Allen, DL, Alabama
In this scenario, it seems like Allen's subpar workouts have led to a bit of a drop. His size (6'3″) is a bit of a concern, but he has the ability to be an effective defensive end while spending some time on the inside as well. Allen would look great lining up on the opposite end of Joey Bosa.
8. Carolina Panthers (Dallas) – Corey Davis, WR, Western Michigan

Sitting at pick No. 8, the Panthers certainly have options. General manager Dave Gettleman & Co. could go after a running back like Leonard Fournette or Christian McCaffrey, bring in a young edge rusher to play alongside veterans like Charles Johnson and Julius Peppers, or even reach for an offensive tackle given Michael Oher's health questions. With Ted Ginn Jr. and Corey Brown having defected via free agency, the Panthers need another wideout to pair with Kelvin Benjamin. Enter Davis, who topped 1,400 yards and 12 touchdowns in each of the past three seasons.
9. Cincinnati Bengals (Zach) – Reuben Foster, LB, Alabama
Foster's stock, by all accounts, is slipping after he turned in a diluted urine sample and got into an argument with a hospital worker at the combine. However, with other teams in the market for an inside linebacker (like the Jets at No. 12, for example), it would be somewhat risky to trade down into the teens and expect Foster to still be there. The Bengals have been willing to overlook character concerns in the past, so I see no reason why they can't do the same here and land the Alabama star.
10. Buffalo Bills (Dallas) – Jamal Adams, S, LSU

While the Bills gave Jordan Poyer a four-year deal with $6MM in guarantees earlier this offseason, I'm still not convinced Buffalo views him as a definite starter. Those questions come to the forefront with Adams still on the board, and the Bills don't hesitate to take the LSU defensive back. With ex-Packer Micah Hyde also in the fold, Buffalo can field one of the more diverse and flexible safety tandems in the league. Adams is viewed as a leader in the locker room, and has been favorably compared to former Cowboys All Pro Darren Woodson by Lance Zierlein of NFL.com.
11. New Orleans Saints (Zach) – Derek Barnett, DE, Tennessee
Leonard Fournette would have been a logical choice here, but the Saints have now landed Adrian Peterson. Instead, the Saints get one of the draft's best pass rushers. With 33 sacks over the last three years, Barnett will provide an immediate boost to the Saints' lackluster D.
12. New York Jets (projected trade with Cleveland) (Dallas) – O.J. Howard, TE, Alabama
Former Jets offensive coordinator Chan Gailey got next to nothing of his tight end group in 2016, as Charone Peake led Gang Green with 19 receptions for 186 yards. New play-caller John Morton comes from the Saints, the club that unearthed production from Jimmy Graham and Ben Watson, so it stands that the New York front office will give Morton a fresh face in Howard. Universally regarded as the draft's No. 1 tight end, Howard is a threat in the passing game as well as a willing blocker in the run game.
13. Arizona Cardinals (Zach) – Marlon Humphrey, CB, Alabama
Popular thought has the Cardinals taking a quarterback here, but I instead have them targeting a cornerback to pair with Patrick Peterson. The Cardinals have the rest of the draft to explore a potential Carson Palmer successor/stand-in, and I'm higher on Humphrey than most.
Having already added two starting wide receivers in free agency, the Eagles continue to make Carson Wentz's life a bit easier by giving him an all-purpose weapon in McCaffrey. While Leonard Fournette gets more run as a generational talent, I think McCaffrey is actually the best back in the 2017 class. His pass-catching skills are on par with a full-time wideout, and his ability as a runner is underrated. McCaffrey would team with Wendell Smallwood and Darren Sproles in a dynamic Philadelphia backfield.
15. Indianapolis Colts (Zach) – Haason Reddick, LB, Temple 
The Colts' revamped linebacker group looks even brighter with the addition of Reddick. This board climber can be used at both ILB and OLB.
16. Baltimore Ravens (Dallas) – Cam Robinson, T, Alabama
Robinson is now expected to be the first offensive lineman off the board on Thursday night, and the Ravens can use front five help after losing right tackle Ricky Wagner to the Lions last month. By slotting in Robinson, Baltimore will be able to keep Alex Lewis at guard, where he's better suited. While Robinson has the qualities to play left tackle, that won't be a consideration with the Ravens, who just drafted Ronnie Stanley sixth overall in 2016. Robinson, who is only 21 years old, gives Baltimore options, as he could certainly be a fallback player at guard if he can't cut it at tackle.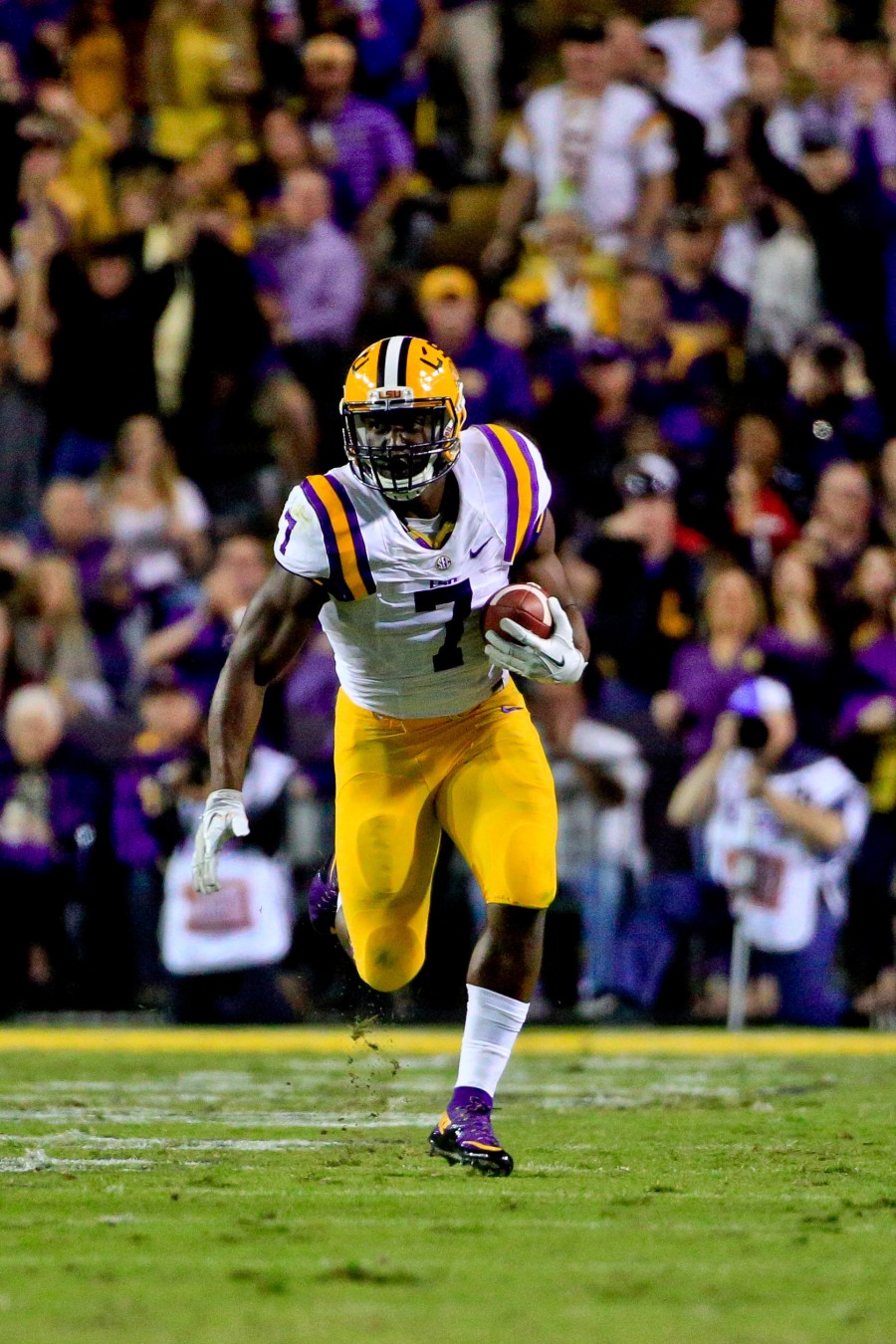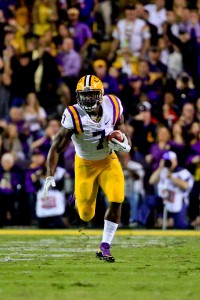 17. Washington Redskins (Zach) – Leonard Fournette, RB, LSU

Fournette fell right into the laps of the Redskins! The Eagles went with McCaffrey because he is the best scheme fit, but I feel that the rival Redskins are getting the superior talent three spots later.
After landing Marshon Lattimore with the No. 5 pick, the Titans address their other glaring need by selecting Williams. At present, Tennessee's wide receiver group is lead by Rishard Matthews, Tajae Sharpe, and Harry Douglas, so the club definitely needs to give quarterback Marcus Mariota more talent at pass-catcher. Dane Brugler of CBSSports.com compares Williams — who managed 1,361 receiving yards and 11 touchdowns in 2016 — to former Cardinal/Patriot Michael Floyd, but Titans fans clearly hope Williams will provide more value than did Floyd. Washington's John Ross was also a possibility here, but he may fall to the second round due to ongoing injury concerns.
19. Tampa Bay Buccaneers (Zach) – Dalvin Cook, RB, Florida State
The Buccaneers just couldn't resist going with the homegrown talent. Cook can contribute right off the bat and provide the kind of production that was expected of Doug Martin. Let's just hope the Bucs' running back jinx of 2016 doesn't extend into 2017.
20. Denver Broncos (Dallas) – Garett Bolles, T, Utah
The Bolles-to-Denver connection is perhaps the strongest link in the first round of this year's draft. Bolles will be 25 years old when the 2017 campaign gets underway, which is a concern, but the Broncos can afford to possibly eschew long-term value in favor of immediate need. If the season began today, either Menelik Watson or Donald Stephenson would be Denver's starting left tackle. Unless Broncos management has a death wish for Trevor Siemian/Paxton Lynch, they can't allow that to happen. Bolles would instantly upgrade the left side of Denver's line, solidifying a massive need area for the Broncos.
21. Detroit Lions (Zach) – Takkarist McKinley, DE, UCLA
The buzz around McKinley seems to have quieted a bit in recent week, but I feel great about this pick for Detroit. He needs some polishing, but the potential is there for McKinley to be a Pro Bowl talent. The Lions needed defensive help and the get it in a major way with McKinley.
22. Miami Dolphins (Dallas) – Forrest Lamp, G, Western Kentucky
While the Dolphins have also been tied to defensive ends during the predraft process, Miami could still use help at guard, where projected starters Ted Larsen and Jermon Bushrod will each be over 30 years old when the season starts. Recent reports have indicated the Dolphins "love" Lamp (I know, I know) and are "locked in" on the Western Kentucky guard. Lamp played tackle at the collegiate level, and Mike Renner and Sam Monson have been making the case on the Pro Football Focus podcast that Lamp should stay at tackle in the NFL. If Lamp lands in South Beach, however, that probably won't be a consideration, as the Dolphins already employ Laremy Tunsil and Ja'Wuan James.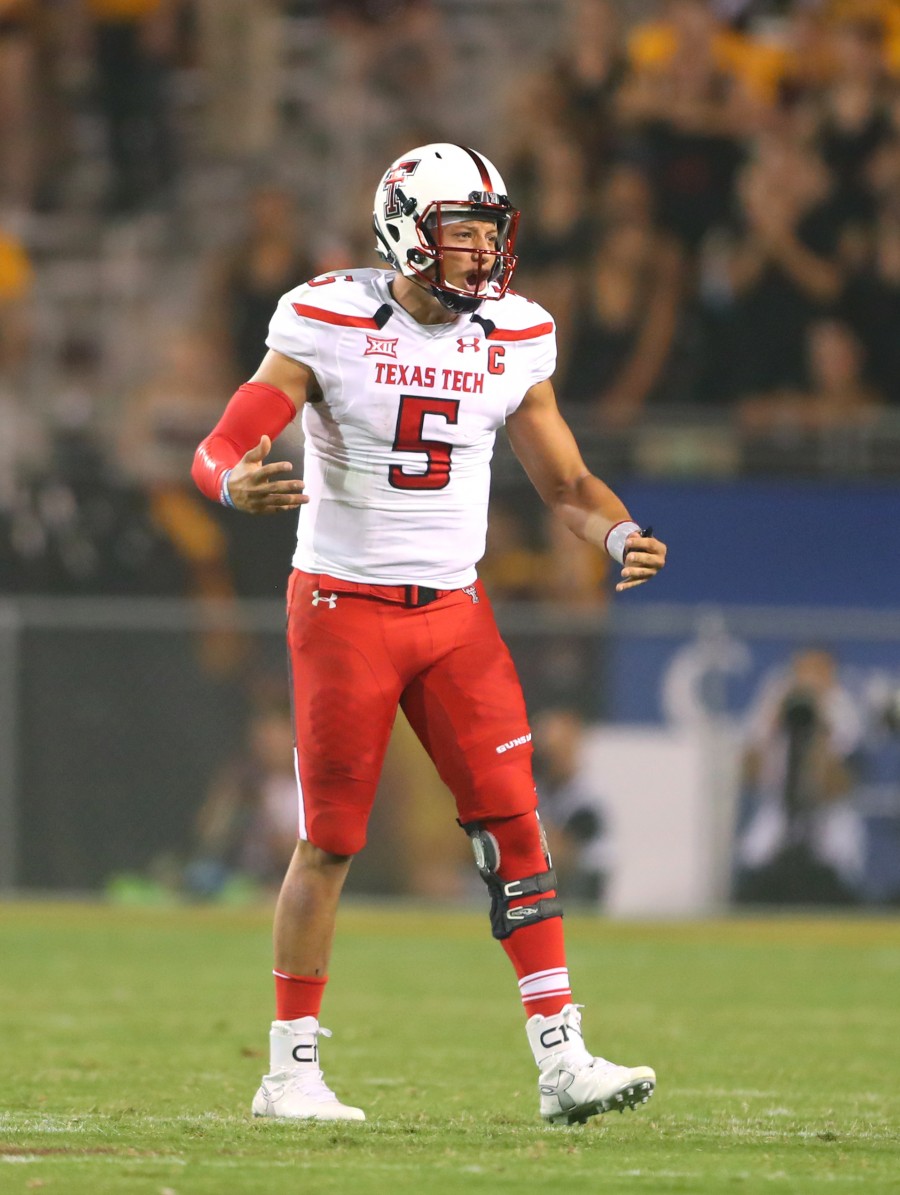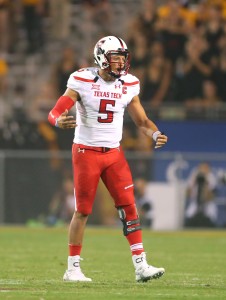 23. Kansas City Chiefs (projected trade with Giants) (Zach) – Patrick Mahomes, QB, Texas Tech
Here's the inside scoop: my Giants are eyeing three players in particular and at least one of them will be available at No. 27. So, why not use this opportunity to gain some draft capital? The Chiefs, meanwhile, seized an opportunity to leapfrog the Texans and secure their desired QB. The Chiefs sent the No. 27 and No. 91 overall picks to the Giants to get back the No. 23 and No. 167 selections.
Having released Dan Williams, the Raiders' interior defensive line is now headlined by Justin Ellis, Jihad Ward, Darius Latham, and Denico Autry, all of whom graded as bottom-half defensive tackles in 2016, per Pro Football Focus (Ward ranked dead last). If former second-round pick Mario Edwards Jr. can return from injury, he makes a fine sub package interior rusher, but Oakland still needs a big body in the middle. Enter McDowell, who stands 6'6″, 295 pounds. He's faced effort questions throghout his collegiate career, but he's clearly a first-round talent if his head is on straight. The Raiders can take the risk with the hope their coaching staff gets the best out of McDowell.
25. Houston Texans (Zach) – Deshaun Watson, QB, Clemson
Watson, in my opinion, has the greatest upside of any quarterback in this year's draft. This is a solid pick for Houston at No. 25.
26. Seattle Seahawks (Dallas) – Ryan Ramczyk, T, Wisconsin

Seattle invested $7MM guaranteed in former No. 2 overall pick Luke Joeckel with the intention of playing him at left tackle, but I have a hard time believing Joeckel will stick in the starting lineup all season given his history of poor play. Ramczyk is too good a value to pass up at No. 26, and he can play guard or right tackle (depending on how the Seahawks deploy 2016 first-rounder Germain Ifedi) until Joeckel proves he shouldn't be starting any more. Cornerback is also a consideration here, but Pete Carroll can find developmental defensive backs later in the draft.
27. New York Giants (projected trade with Chiefs) (Zach) – Jarrad Davis, LB, Florida
As the Giants GM, I will neither confirm nor deny that we traded down with an eye on getting Ryan Ramczyk here (OK, you got me – we wanted him). Fortunately, Davis was also on our short list and still available. Linebacker is an area of need for the Giants and Davis could have a bright future. Let's just hope that the Giants can unearth an offensive line gem or two in the later rounds.
28. Dallas Cowboys (Dallas) – Charles Harris, DE, Missouri

Harris is shooting up draft boards, and Josh Norris of Rotoworld now has the Missouri product ranked 15th overall on his latest big board. The Cowboys, meanwhile, have "made no secret" of their interest in Harris, as Charean Williams of the of Star-Telegram recently reported. With former second-round pick Randy Gregory on a yearlong suspension (and never having produced at the NFL level anyway), Dallas needs another edge presence to pair with Demarcus Lawrence. Harris posted 16 sacks over the past two seasons for the Tigers.
29. Green Bay Packers (Zach) – T.J. Watt, LB, Wisconsin
Reach? Maybe. Fan pleaser? Definitely. But Watt would be a great fit for a team in need of reinforcements at outside linebacker.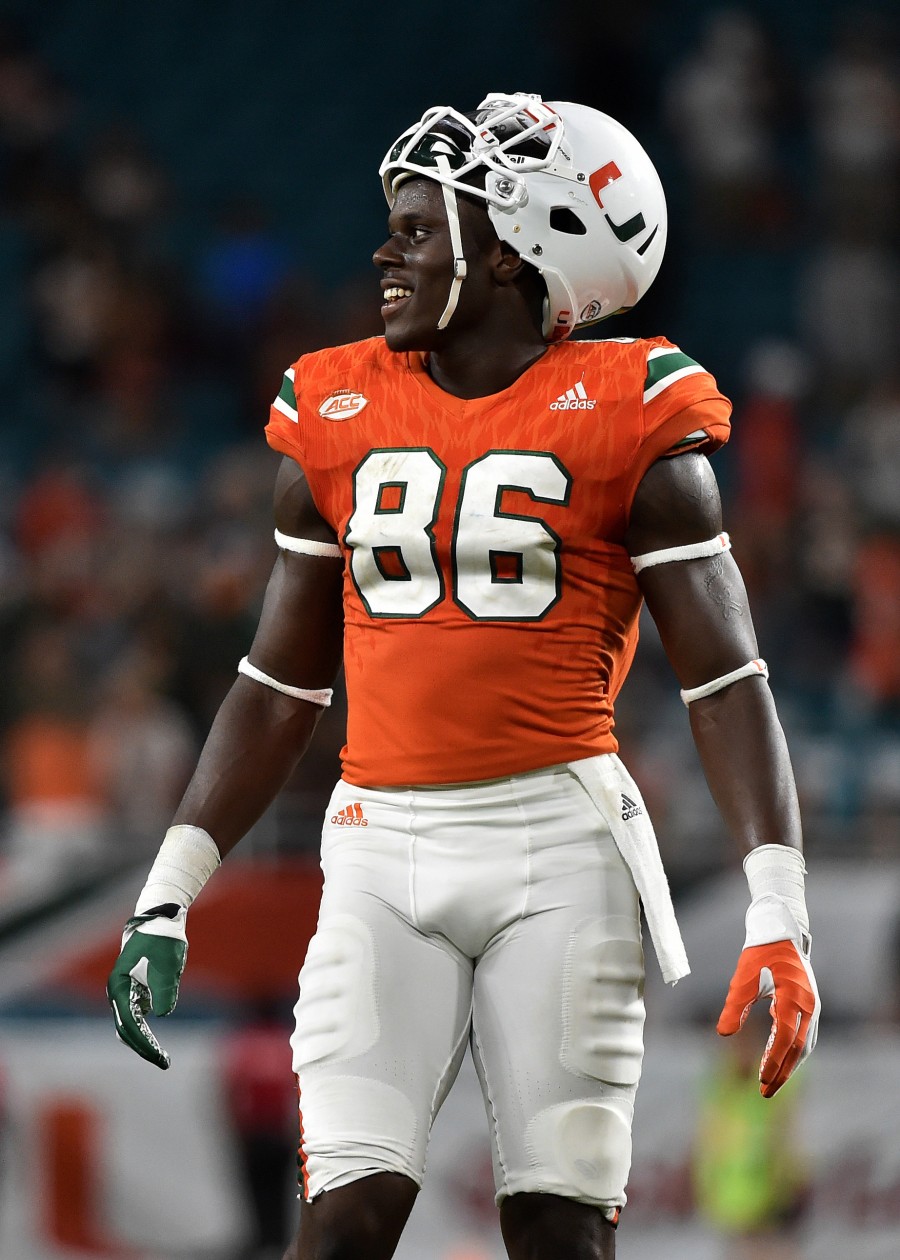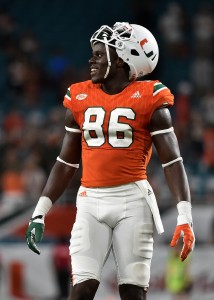 30. Pittsburgh Steelers (Dallas) – David Njoku, TE, Miami
The Steelers inked Ladarius Green to a four-year contract prior to the 2016 season, but he played in six games during his inaugural Pittsburgh campaign due to lingering concussion issues. General manager Kevin Colbert says Green will be ready for the upcoming season, but there's no guarantee Green will fully recover from his head injuries. Pittsburgh needs insurance at the tight end position, and Njoku — an athletic freak with competent blocking skills — gives them that. An offense armed with Antonio Brown, Le'Veon Bell, Njoku, and (hopefully) Martavis Bryant would be among the best in the league.
31. Atlanta Falcons (Zach) – Taco Charlton, DE, Michigan
The versatile Jabrill Peppers was a consideration here, but his diluted drug test could allow Atlanta to get him later in the draft. Instead, I tuned to defensive end. Takkarist McKinley, T.J. Watt, and Derek Barnett are all off the board, but Charlton isn't a bad consolation prize late in the first round.
32. New Orleans Saints (Dallas) – DeShone Kizer, QB, Notre Dame
While I seriously considered giving the Saints LSU cornerback Tre'Davious White, I'll stick with the pick I made in PFR's first mock draft: Notre Dame quarterback DeShone Kizer. Drew Brees is now 38 years old and entering the final year of his contract, and the Saints haven't shown any urgency in signing him to an extension. Head coach Sean Payton said in February that his club is always in the "quarterback business," and it's now time to find Brees' successor. Kizer, who tossed 26 touchdowns against nine interceptions in 2016, can be the next man up. Personally, he's my favorite quarterback in the 2017 class.
Photos courtesy of USA Today Sports Images and Pro Football Rumors on Instagram.
Follow @PFRumors