Josh McDaniels will honor each of his interview requests in this hiring period. In addition to meeting with the Browns, the Patriots offensive coordinator will sit down with the Giants and Panthers this week.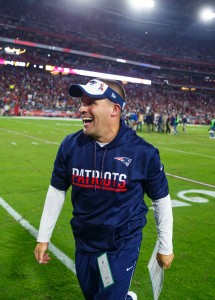 Prior to the Pats' playoff loss to the Titans on Saturday night, those interviews were expected to take place Friday, January 10, in Foxborough, per Ian Rapoport of NFL.com (via Twitter). But now that New England has been bounced from the postseason, the three interested clubs will get to hear from McDaniels starting on Monday, January 6, as Michael Lombardi of The Athletic tweets. The Panthers, though, will meet with McDaniels on January 10 as planned, given that they are busy with other interviews (via David Newton of ESPN.com).
Veteran NFL reporter Ed Werder also believes the Cowboys, who have not been formally connected to McDaniels just yet, to have interest in him (Twitter link).
While the Browns met with McDaniels back in 2014, the Giants have also interviewed him previously. They did so two years ago for a job that went to the recently fired Pat Shurmur.
McDaniels, however, may have a clearer path to the Cleveland or Carolina jobs. Skepticism exists on the New York front. Some around the league have doubted the 43-year-old assistant is as interested in the Giants as they are in him, per Ralph Vacchiano of SNY, who adds that Dave Gettleman's role may pose a problem for McDaniels. Gettleman being in place as Big Blue's GM would not necessarily be a deal-breaker, but McDaniels' potential demand for more say in personnel matters does not appear to be what Giants ownership prefers.
Despite McDaniels' previous run with personnel power going poorly (with the Broncos in 2009-10, the Browns will likely be willing to give the Ohio native such a role. They plan to hire a coach before adding a GM, and McDaniels is believed to be the frontrunner for the Cleveland position. The Panthers have GM Marty Hurney in place, but with the two-stint Carolina executive being hired before David Tepper bought the team, that situation is fluid. Gettleman has said he would cede some power if it would help the Giants, Vacchiano adds the team is not likely to offer its next coach such an opportunity.
McDaniels will want a personnel staffer he trusts to accompany him to New York, per Vacchiano. But John Mara said whomever the Giants hire will not determine Gettleman's role, so a McDaniels-Nick Caserio partnership in New York seems unlikely to commence. Regardless, McDaniels' stock has returned to where it was before he spurned the Colts in 2018.
Photo courtesy of USA Today Sports Images.