The first-round of the 2014 NFL Draft took place seven years ago today. While there was plenty of hype heading into the first day of the draft, surely no one expected the first round to produce so many accomplished players. Among the 32 individuals who heard their name called on May 8, 2014, 17 of those players eventually earned Pro Bowl nods. That's not shabby.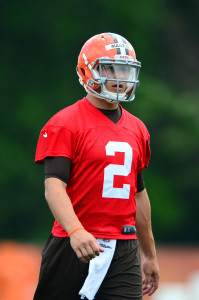 From a transactions standpoint, there were five trades completed on that Thursday evening, with the Browns and Vikings starring in a handful of the deals. While there were whispers that the first-overall pick could get traded from Houston, the Texans ultimately kept the selection and drafted Jadeveon Clowney at No. 1.
The first trade of the evening was between the Browns and Bills. Cleveland wanted to move back to select a cornerback, so they sent No. 4 to Buffalo for No. 9, a future first, and a future fourth. The Bills ended up selecting wideout Sammy Watkins. As the first round continued to progress, the Browns apparently didn't feel comfortable staying at No. 9. So, they packaged that selection and a future fifth-round pick to the Vikings for the No. 8 pick, and they proceeded to select cornerback Justin Gilbert. The Vikings selected linebacker Anthony Barr with their new selection.
The Saints later got into the action, acquiring the No. 20 pick from the Cardinals to select receiver Brandin Cooks. New Orleans sent Arizona No. 27 and No. 91, with the Cards selecting safety Deone Bucannon with that first-round selection.
The Browns made another trade later in the night, this time in pursuit of a quarterback. Cleveland traded No. 26 and No. 83 to Philly in exchange for No.22…and the Browns ultimately selected quarterback Johnny Manziel. Really, the writing was on the wall with that selection; the team had previously drafted two other QB busts (Brandon Weeden, Brady Quinn) at that same spot in the draft.
The last trade of the evening once again featured the Vikings. Minnesota acquired the No. 32 pick from the Seahawks for picks No. 40 and No. 108. The Vikings used their new selection on quarterback Teddy Bridgewater.
It was surely an entertaining evening, with Cleveland serving as the star of the show. However, fast forward to today, and Browns fans are surely still shaking their head at how everything unfolded.