J.J. Watt is back. Officially.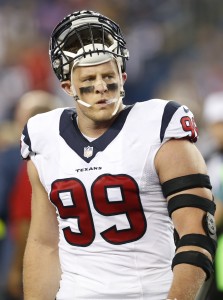 On Tuesday, the Texans formally activated their star defender, per a club announcement. Watt will return to the field for Wild Card weekend to face the Bills on Saturday.
Watt was double-teamed 30% of the time on his edge rusher snaps this year, more than any other qualifying player in the NFL. He still managed to tally four sacks and 24 tackles in eight games, up until he tore his pectoral muscle. Typically, pec surgery rules players out for three or four months, but Watt beat out the doctor's prognosis by a wide margin.
Re-injury risk does exist here, but Watt encountering such a scenario would not jeopardize his status for Week 1 of next season. The Texans have been without their future Hall of Fame pass rusher, and their pass rush has suffered. Watt's 21 QB hits led the league at the time of his injury, and 5.5 of Whitney Mercilus' 7.5 sacks came during the seven games in which Watt played from start to finish.
This will obviously increase the Texans' chances of winning their first playoff game in three years. Houston had Watt for its 2018 wild-card game against Indianapolis but lost. Watt did not play in the Texans' two 2016 playoff games. He's the only player in NFL history to record two 20-plus-sack seasons, so this transaction will alter the Bills' game plan.
To make room for Watt, the Texans placed safety Tashaun Gipson on injured reserve. The veteran had 51 tackles and three interceptions in 14 games this season. Gipson suffered a transverse process fracture in his back, Aaron Wilson of the Houston Chronicle notes. The former Browns and Jaguars starter signed a three-year, $22.5MM deal with the Texans this offseason.
Photo courtesy of USA Today Sports Images.