Carlos Hyde's Saturday visit to Kansas City will land him a deal. One of the Jaguars' Friday cap casualties, the running back will sign with the three-time defending AFC West champions, Adam Schefter of ESPN.com tweets. The Chiefs announced the move.
It's a one-year deal for Hyde, who will be on his third AFC team in the past six months. The 28-year-old back's contract is worth $2.8MM, Terez Paylor of Yahoo.com tweets.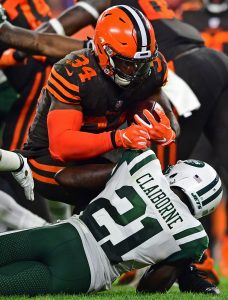 Despite the Chiefs having accomplished far more than Hyde's previous teams, he will have a better chance of earning a starting job in Kansas City.
The Browns traded Hyde last season to allow for Nick Chubb to commandeer their top backfield role, and the Jaguars have Leonard Fournette in tow. The Chiefs cut Kareem Hunt midway through last season, and previous third-stringer Damien Williams ended up as the No. 1-seeded team's top running back in the playoffs.
Williams signed a two-year, $5.1MM extension and will play on a $1.7MM cap number in 2019. The Chiefs may well end up drafting another back, but a Williams-Hyde partnership may be the 2019 team's primary tandem. Kansas City, of course, has plenty of defensive needs it may want to address in the draft. It appears the Justin Houston–Dee Ford pairing will break up, creating an immediate need that didn't exist entering last year's draft.
This does double as a fairly steep downgrade for Hyde, who signed a three-year, $15MM contract with the Browns last year. However, he may be a bargain for Chiefs. Hyde is relatively fresh for a running back entering his age-29 season.
Since being a 49ers second-round pick in 2014, he has only taken 827 handoffs. Injuries posed a problem earlier in Hyde's career, but he was a 16-game San Francisco starter in 2017 and suited up for 14 contests last year. Hyde, however, averaged just 3.3 yards per carry with the Browns and Jags in 2018. His 2017 season featured a 3.9 yards-per-carry figure. Although Hyde was barely used as a receiver last season (10 catches, 33 yards), he totaled 59 receptions and 350 yards for the '17 49ers, adding a potential auxiliary weapon to a Chiefs offense that likes to involve its backs as outlet options.
Photo courtesy of USA Today Sports Images.