Chris Lindstrom's season will resume Sunday. The Falcons activated the rookie guard off IR on Saturday and will reinstall him as their starting right guard.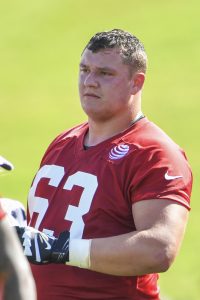 Atlanta waived tight end Carson Meier to clear a roster spot. The team has used both of its IR-return spots over the past week, activating both Lindstrom and punter Matt Bosher. The latter, however, re-injured his groin and is back on IR.
Lindstrom returned to practice just this week, but the Falcons are evidently satisfied with his health and progress after a few days. The Boston College-developed prospect has spent nearly three months on IR because of a foot injury, last playing in Atlanta's opener.
The Falcons used two first-round picks on offensive linemen this year, selecting Lindstrom at No. 14 overall and adding Kaleb McGary at No. 31. Neither's first years have gone as the team hoped. McGary underwent heart surgery but returned to start all 12 Falcons games thus far. As a result, the Falcons have barely seen their two top rookie investments in uniform together.
Photo courtesy of USA Today Sports Images.