Eric Reid and the Panthers are going their separate ways. On Wednesday, the veteran safety took to Twitter to announce that he will be released by the club: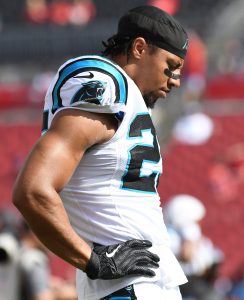 "It's been a pleasure Carolina! I enjoyed my time and the support I received from the fans, media, teammates, and staff there will be remembered. Looking forward to furthering my career in another city!"
The Panthers subsequently confirmed the move. This will end a two-year tenure with Carolina.
Reid, 28, hasn't been on the open market since 2018. In that offseason, he was forced to wait until September before landing the deal. Some believe that Reid's relationship with Colin Kaepernick and role in national anthem protests hampered his market. Others pointed to the NFL's safety market stagnating league-wide – other notable safeties also struggled to find substantial dollars in that cycle. In truth, both were likely factors.
This time around, Reid should fare much better. Last season, Reid started in all 16 games and thrived as he was deployed in blitz action. He finished out the year with four sacks and an eye-popping 130 tackles, good for a brand new career best.
Reid was set to play out the final two years of the three-year extension he signed in February of 2019. Instead, the Panthers will drop him to save $3MM against $5MM in dead money. Per the terms of his deal, his 2020 salary would have shifted to a full guarantee on the third day of the league year had he remained on the roster.
The release comes as a surprise, though the Panthers have been in full rebuild mode all throughout the offseason. After cutting ties with head coach Ron Rivera and tight end Greg Olsen, the club kicked things into high gear this week by putting quarterback Cam Newton on the trade block.
Photo courtesy of USA Today Sports Images.