As the Bills start to get their offseason in order following their AFCCG loss to the Chiefs, they've made a relatively minor move. Buffalo has re-signed offensive lineman Jordan Devey to a one-year deal, the team announced Monday.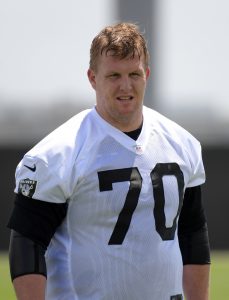 Terms weren't immediately available, although it's safe to assume it's for close to league minimum. He bounced between the practice squad and active roster, and only played a couple of offensive snaps this past season. While he didn't see the field much for Buffalo, he has received some significant run in the past. In 2019 he started four games with the Raiders, and appeared in seven with a couple of starts with the Chiefs the year before.
Devey entered the league as an UDFA in 2013 and has bounced around since, starting four games for the Patriots in 2014 and nine with the 49ers in 2015. He won Super Bowl XLIX with New England. Although he has a decent amount of starting experience this is nothing more than a depth signing, and in an ideal world he won't be helping to protect Josh Allen next year.
Photo courtesy of USA Today Sports Images.