Arrested for DUI on Monday, Buccaneers wide receiver Travis Jonsen is set to hit the waiver wire. Bucs HC Todd Bowles said Tuesday the former UDFA signing is no longer with the team, via Buccaneers.com's Scott Smith (on Twitter).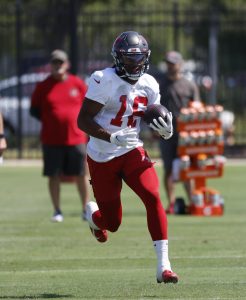 A 2020 Bucs post-draft addition, Jonsen has spent most of his NFL time in Tampa. While the Lions rostered him on their practice squad for a stretch last season, the Bucs gave Jonsen a reserve/futures contract for a second straight year in January. His Memorial Day arrest has changed the team's plans.
Tampa police arrested Jonsen at 3:18am Monday, Greg Auman of The Athletic tweets. Jonsen, 25, refused a blood-alcohol test and was booked at 4:56am on a misdemeanor DUI charge. Although Jonsen was released from jail before noon Monday, Auman tweets, the Bucs have since moved on. Countless instances exist of players remaining with teams after DUIs, but bottom-rung roster players are generally afforded fewer missteps.
A Montana State alum, the 6-foot-4 wideout has not played in an NFL regular-season game to this point. He finished as a first-team All-Big Sky Conference performer in 2019. He was with the Bucs on their 16-man practice squad for most of their Super Bowl LV-winning season and began last season on Tampa Bay's taxi squad as well.