Shortly after the draft, the Buccaneers waived multiyear contributor Riley Bullough. The Titans will now see what the linebacker can do under their watch.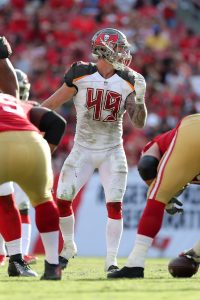 Tennessee submitted a successful waiver claim on the young linebacker on Tuesday. Bullough will now head to Nashville.
A 2017 UDFA who became a fan favorite on Hard Knocks that summer, Bullough made his way into Tampa Bay's starting lineup in 2018. He was a first-stringer in three games last season. The Michigan State product started in three games and played in nine as an NFL sophomore. But he's been mostly a special teams cog, having made just 15 career tackles in 12 games.
The Bucs waived Bullough with an injury designation prior to the 2018 regular season but brought him back in October. After waiving him again this year, they will not have an immediate chance to re-sign him.
The Titans closed their six-player draft with two linebackers — D'Andre Walker and David Long Jr., respectively chosen in the fifth and sixth rounds — but did not sign any veteran free agents at this spot.
Photo courtesy of USA Today Sports Images.