Four years ago today, the Rams officially signed No. 1 overall pick Jared Goff. The Rams were happy to sign the promising young Cal product to a four-year, $28MM deal in accordance with his slot, though they paid a hefty price for the right to draft him in the first place.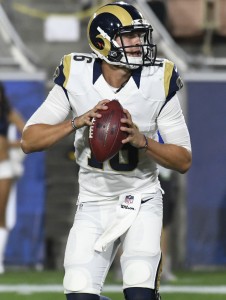 [RELATED: This Date In Transactions History: 49ers Trade Issac Bruce To The Rams]
After a classic Jeff Fisher middle-of-the-pack season, the Rams came into the offseason with the No. 15 overall pick and a major crush on Goff. A couple weeks before the draft, they pried the top choice away from the Titans with a Godfather offer, a package that included two 2016 second-round picks, plus 2017 first- and third-round choices.
Goff wasn't everyone's preferred quarterback in that class, but the Rams saw Goff as a more polished passer than North Dakota State's Carson Wentz. It was hard to argue with Goff's potential – he threw for nearly 8,700 combined yards and 78 touchdowns during his final two college seasons. And, in his final year, he established new personal watermarks by completing 64.5% of his passes and throwing for 4,714 yards and 43 TDs.
With Goff under center, the Rams reached the Super Bowl following the 2018 season. After Goff threw for 4,688 yards, 32 touchdowns, and 12 interceptions in the regular season and brought them to a snoozer of a championship game, the Rams rewarded him with a four-year, $134MM deal with $110MM guaranteed. Goff's 2019 showing has raised some question marks about his second contract, but the Rams can't complain about his first deal.
In keeping with team tradition, the Rams also signed the rest of their entire 2016 draft class on this same day. Thanks to the blockbuster deal to get Goff, the Rams' next pick didn't come until the fourth round at No. 110 overall, when they selected the troubled-yet-talented Tyler Higbee, a tight end out of Western Kentucky. In October of last year, the remainder of the class looked pretty unremarkable. But, after Higbee's incredible finish last year, the Rams' report card deserves a revised grade.
Photo courtesy of USA Today Sports Images.