A notable shakeup is on the way atop the Jets organization: Owner Woody Johnson will serve as the United States ambassador to the United Kingdom under President-elect Donald Trump. Johnson's appointment has looked like a strong possibility for weeks, though he downplayed it as speculation earlier this month.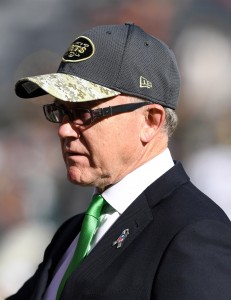 While Johnson will remain the Jets' owner while he serves in his new post over the next three yeas, he'll have to cede day-to-day control of the franchise for the first time since he purchased it in 2000. He'll also likely have to resign from the NFL's Finance Committee, Business Ventures Committee and Media Committee, according to the New York Daily News' Manish Mehta
Johnson's position is unlikely to have a significant effect on the Jets organization, writes Mehta, who notes that Steelers chairman Dan Rooney previously gave up control of the Pittsburgh organization to his son, Art Rooney II, while serving as the U.S. ambassador to Ireland under President Barack Obama from 2009-12. In Johnson's case, his brother – Christopher Wold Johnson – is reportedly in line to grab the Jets' reins. Johnson confidant Ira Akselrad could have involvement as an advisor, adds Mehta.
Woody Johnson decided at the end of a disappointing regular season to retain general manager Mike Maccagnan and head coach Todd Bowles for 2017, but the owner's role as an ambassador doesn't guarantee either job security beyond then.
Photo courtesy of USA Today Sports Images.