Following a standout showing in the XFL, Cam Phillips is drawing some interest from the NFL. Aaron Wilson of the Houston Chronicle reports that both the Dolphins and Bengals have expressed interest in the wideout.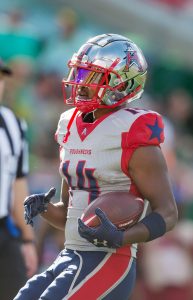 The 24-year-old led the XFL in receiving yards with 455, and he also hauled in 31 receptions and nine touchdowns in only five games. Thanks to his consistent performance with the Houston Roughnecks, the six-foot, 202-pound wideout won a handful of Player of the Week awards.
The former undrafted free agent out of Virginia Tech had a previous NFL gig, as he caught on with the Bills back in 2018. He spent much of that season on the practice squad, but he did haul in a nine-yard reception in two games. He was waived by Buffalo at the end of the 2019 preseason.
As we noted earlier today, a number of Phillips' Roughnecks teammates have already signed NFL contracts. That grouping includes quarterback P.J. Walker, cornerback Deatrick Nichols (Saints), linebacker DeMarquis Gates (Vikings), and linebacker Edmond Robinson (Falcons).
Photo courtesy of USA Today Sports Images.