Four years ago today, the Raiders fired head coach Jack Del Rio. The decision came shortly after a lopsided loss to the Chargers in the season finale, capping the Raiders' season at 6-10.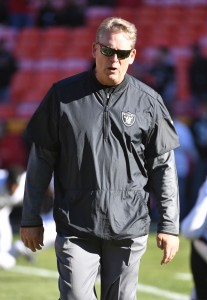 [RELATED: Latest On Raiders, Mike Mayock]
"[Raiders owner] Mark Davis told me he loved me and appreciated all that I did to get this program going to right direction," said Del Rio. "But, [he also] that he felt he needed a change."
Davis hired Del Rio in 2015 and saw the team improve from 3-13 to 7-9. That Raiders team didn't necessarily set the world on fire, but they were at least in the playoff hunt, up until a Week 15 loss to the Packers. In 2016, it appeared that the Raiders were on the right track. With Del Rio at the helm and Derek Carr under center, the Raiders finished 12-4 to earn their first playoff spot since 2002.
Unfortunately, Carr didn't make it to the postseason after suffering a broken fibula in Week 16. Then, when Matt McGloin suffered a shoulder injury the following week, rookie Connor Cook was thrust into action. Oakland's long-awaited playoff appearance ended abruptly with a loss to the Texans. Had Carr been on the field, it's possible that things could have gone differently for the Raiders and JDR.
So, after a cumulative 25-23 record, the Raiders dismissed Del Rio and immediately set their sights on Jon Gruden. Del Rio, meanwhile, spent the next few years away from football, up until 2020 when he became Washington's defensive coordinator.
When Del Rio crossed paths with his old team a few weeks back, he had an opportunity to mend fences with Carr. Previously, Del Rio had some unflattering things to say about Carr's ability to perform in cold weather. Fortunately, with 2021 drawing to a close, they were able to bury the hatchet.
"I talked to him afterward," Carr said. "We had a good talk, obviously I wish it was better for me, but we just expressed our love for one another and how thankful we were for the times that we had."