The old adage that defense wins championships may or may not be true, but you'll be hard-pressed to find a title-winning team that didn't build heavily through the draft. Rookie classes, naturally, are evaluated on the perceived upside of the NFL newcomers, but which rookies are ready to contribute right out of the gate? And, how do they fit in with their new team schematically?
To help us forecast the immediate future of these NFL neophytes, we enlisted the help of draft guru Dave-Te Thomas who has served as a scouting personnel consultant to NFL teams for multiple decades.
Today, we continue PFR's Impact Rookie series with his insight on the San Diego Chargers' draft class:
First Round – Joey Bosa, DE (Ohio State, No. 3 overall)
Is San Diego regretting their draft day surprise? Many felt that Jalen Ramsey was a perfect fit for the Bolts as he could have filled the free safety role. Instead, they passed on the best defensive player in the draft to take defensive end Joey Bosa. As camp approaches, Bosa and the front office are at an impasse over his contract.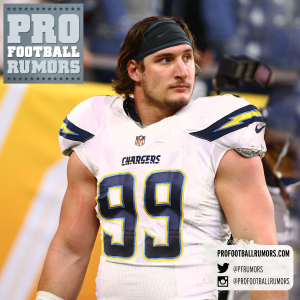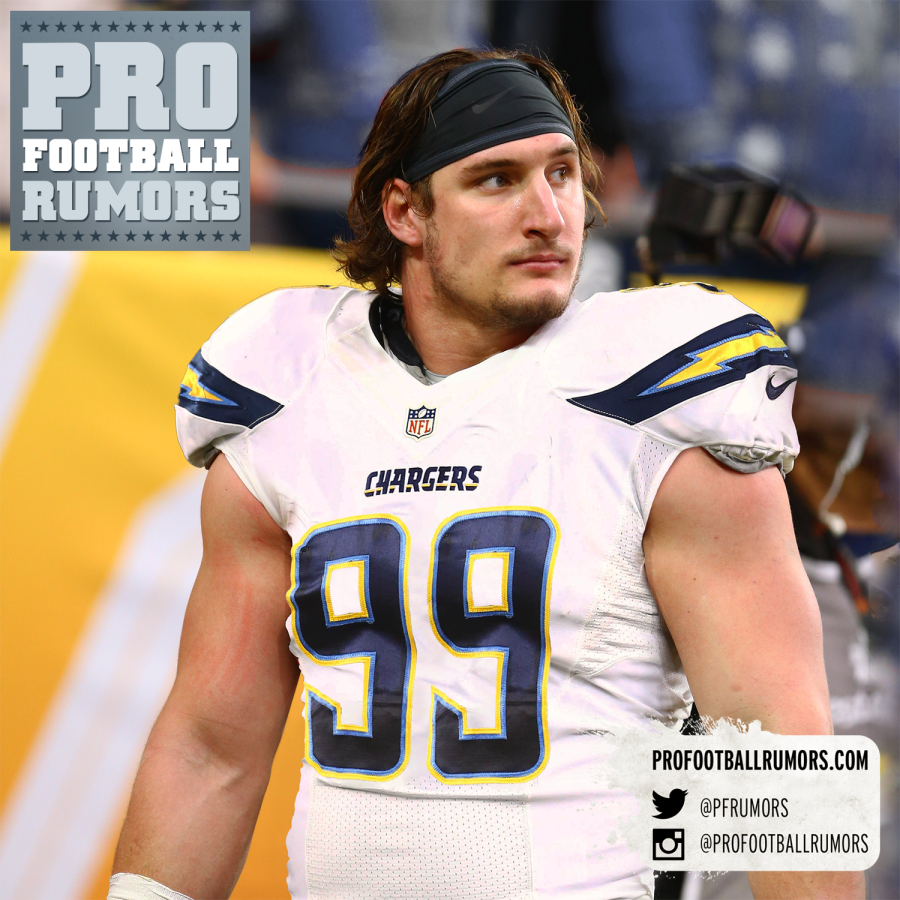 Bosa is scheduled to start at left defensive end, where the Chargers let former second round pick, Kendall Reyes, also leave the complex to join Weddle in Baltimore. After a promising rookie year that saw Reyes tally 5.5 sacks, nine stops for loss and nineteen QB pressures, Reyes failed to impress during his three years as a starter, making two sacks and 32 hits through fifteen assignments with the first unit last year.
[RELATED: Follow Pro Football Rumors On Instagram]
Bosa was suspended for the 2015 season opener and was slow to get back into his usual "bull in a china shop" self in 2015. Coming off a 12-sack, 21.0-tackle-for-loss 2014 national championship campaign, Bosa saw his numbers dip to five sacks in 2015. He did post sixteen stops behind the line of scrimmage, tying for 15th on the school season-record list, adding fourteen QB pressures. Eight of his tackles in the backfield came on third-down snaps and the opponents were held to a rushing average of 0.43 yards on plays directed at him. He would close out his career third in OSU annals with 26 sacks and fourth with 50.5 tackles-for-loss.
Bosa's outstanding instincts shined throughout his career. He displays improvement in the strength department, as his body has begun to mature to NFL level. The first thing you notice on film is that he plays with a high motor and has excellent initial quickness to surprise the lethargic offensive lineman. He shows above average balance working down the line and in pursuit. He gains advantage with his sudden moves and change of direction agility, doing a nice job of using his hands and arm extension to avoid low blocks and maintain balance on the move. He is a quick twitch type of player with the natural movement skills to pursue from the backside, shooting the inside gaps, evident by his pass defense performance that flattened Christian Hackenberg on a fourth-and-5 play to secure a victory over Penn State in 2014. He shows good body control working down the line to take an inside gap as a bull rusher. He runs with a long stride, building acceleration nicely. He flashes initial quickness along with sudden explosiveness off the line to surprise a lethargic blocker, and on the move, he is not as quick to redirect.
While Bosa only sealed the deal with five sacks in 2015, he did record fourteen QB chase-downs, including eight on third-down snaps and two on fourth-down plays. While he was effective as a pass rusher in 2014, he really has yet to develop an array of pass rush moves, relying more on his length and raw power to beat blocks on his path to the quarterback. He is known more for that power, but as he matures, he needs to be more efficient with his swim- and rip-move techniques. In any event, he can be an impact player for the Chargers in 2016 – once he gets his contract sorted out.
Read more about the Chargers' rookie class..